Meet Amelia Otto, Education Resource Developer
20 Jun 2021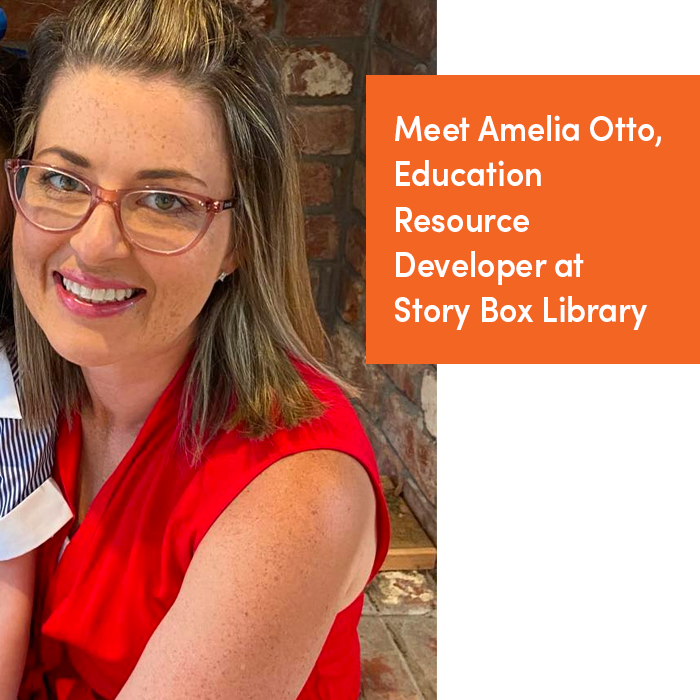 Daughter to a teacher and school librarian, it seemed Amelia Otto was destined to be a teacher. After a stint in other industries, she eventually settled into teaching - and had found her calling. Within the first few weeks of her studies to become a teacher, Amelia felt completely at home in the classroom, surrounded by literature and learning.
As a parent of two herself, and Story Box Library's (SBL) most recent addition to the growing team in the role of Education Resource Developer, Amelia brings endless passion for reading, children's books, and digital innovations in education. She shares her journey through education and children's literature, and her best tips for using SBL in the classroom.
"When I first left school I never thought I would follow my parents into the teaching profession!" Amelia laughs.
"I took a few years off and tried different things... nothing really stuck, so after a little family cajoling I finally succumbed and began a teaching degree.
"Within the first few weeks I was hooked, I felt completely at home in the classroom and it was an absolute privilege to share the learning experience with my students. No two days were the same - I loved it!"
During her experience working as a teacher, she found students of all ages responded best when using picture books as a learning tool. Combining narrative themes and lessons with visual representations enabled all students to engage their learning on a deeper level.
Amelia has found that all students, from kindergarten to Year 12, and even adults, always enjoy listening to a great picture book. The universal appeal of stories, Amelia says, is unparalleled to other classroom resources, and provide key points to help everyone learn something new, invoke critical thinking and reflect on behaviour.
"Stories and picture books in particular are such wonderful vehicles of knowledge and imagination and safely allow children the opportunity to form connections with the world around them, uncover new ideas and explore different ways of thinking," Amelia says.
"Encouraging their curiosity and embracing the joy that books can bring is a wonderful way to start children on their learning and reading journey."
Engaging children in diverse literature from a young age nurtures their natural curiosity, and allows them to explore ideas about the world around them. Whether exploring themes of courage, resilience, or even larger inquiry about their community and the wider world, children's books are key ways for educators and families to support their development.
"Children are naturally inquisitive - from the moment they are born they are searching and seeking information.
"I think it's so important as both an educator and as a parent to encourage this curiosity, let them ask questions and work with them to find the answers.
"Often sharing stories and books is one of the very first ways that children will begin to find answers and of course, formulate more questions!"
To her experiences of incorporating digital resources in the classroom, Amelia used SBL in the classroom during her years in teaching. Alongside classroom learning and traditional storytelling methods, SBL helps educators deepen learning, and with the growing digital collection, takes the pressure off schools having to source new titles.
"We live in a digital world and it's important for us to teach our students how positive and helpful technology can be when used in the right way," Amelia explains.
"With today's technology, students have access to such a range of modern and diverse stories, regardless of whether they're sitting in a big city, country town or remote community!"
Amelia's expert educator tips for using Story Box Library:
Use stories as a starting point for deep discussions or as a tuning in tool for a new unit of work.

Share a story on the big screen with options such as closed captions, allowing for a more equitable learning environment.

View stories in the classroom and ask students to observe the way the story is read aloud, helping students develop speaking and listening skills.

Use SBL's graphic organisers and thinking tools designed to provide opportunities for deeper learning.
To enquire about a Story Box Library subscription for your school, contact us at schools@storyboxlibrary.com.au.