Introducing Our New Graphic Organisers and Thinking Tools
Educators
Classroom Resources
21 Mar 2021

Helping educators take their use of Story Box Library (SBL) to the next level and assist students into becoming critical readers, we've put together a series of graphic organisers and thinking tools designed to provide opportunities for deeper learning.
From summarising to synthesising, these graphic organisers and thinking tools assist children in further developing their reading comprehension skills via a platform that is already familiar and engaging. Helping children develop their metacognition, our graphic organisers provide frameworks in which to scaffold, support and observe children's thinking and responses to texts. These resources provide a versatility to be utilised across all primary year levels - upper primary students might use words to record their thoughts, while students in lower primary might describe their thinking with the use of images.
Download Story Box Library resources here, only available to active subscribers.
With more in development, the first release of resources includes 10 graphic organisers and thinking tools, including a Y-Chart, Character Profile, Story Map, Plot Summary, List Template, T-Chart, Venn Diagram, Menu Planner, Recipe Planner and an Interview Planner. Explore them below!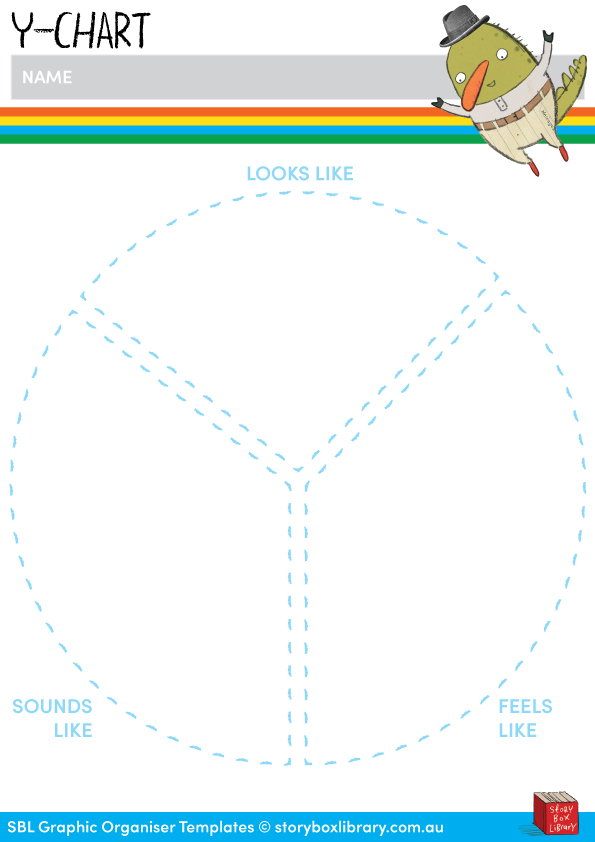 1. Y-Chart
Whether using words or images, Y- Charts help children visualise a story by focusing on the way in which authors draw on the senses to create imagery. Examples for how they can be used with SBL include:
Miss Kraken: Use a Y-Chart to show what 'best behaviour' looks, sounds and feels like.
Peggy: Use a Y-Chart to record what you think Peggy might see, hear and smell when she lands in the city.
It's Ok to Feel the Way you Do: Pick an emotion from the story and use a Y-Chart, to describe how the emotion looks, feels and sounds.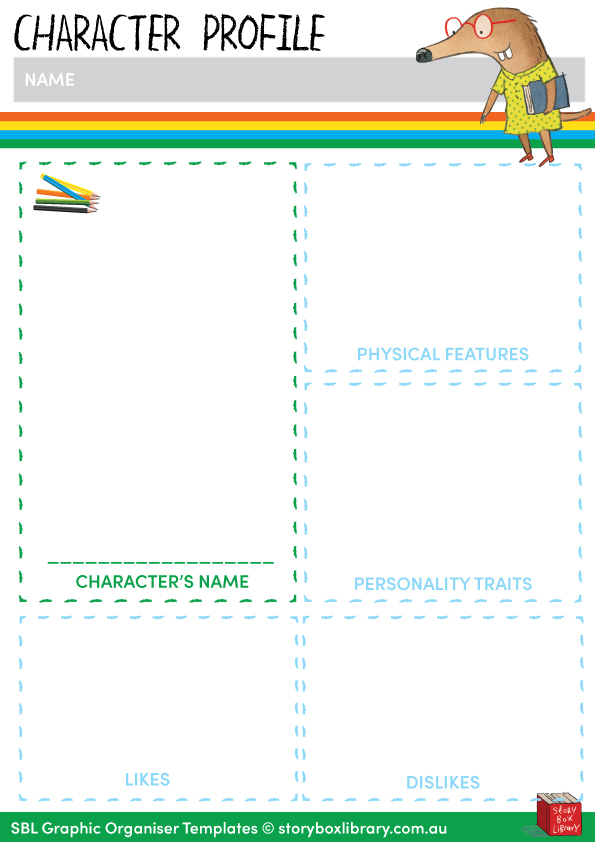 2. Character Profile
A Character Profile helps a reader or viewer visualise a character by fleshing out details about them. A student might draw on dialogue, a character's actions and visual clues provided in the illustrations to complete this task. There is also an element of synthesising taking place when completing a Character Profile, as children will draw on new and prior knowledge to complete the task. Examples for how they can be used with SBL include:
Silver Buttons: Use the information in the illustrations to create a character profile of Jodie.
Teddy Took the Train: Use a Character Profile Template to describe your favourite toy.
Queen Alice's Palaces: In what ways is Sir Hugh portrayed as a villain in the text and illustrations? Use a character profile template to create your own villainous character.
Suri's Wall: Who is Suri? Complete a character profile which includes what her life was like before she found herself behind the wall, or complete a profile for one of the characters in the book, recording information about their age, family, background and what life was like before being held in the camp.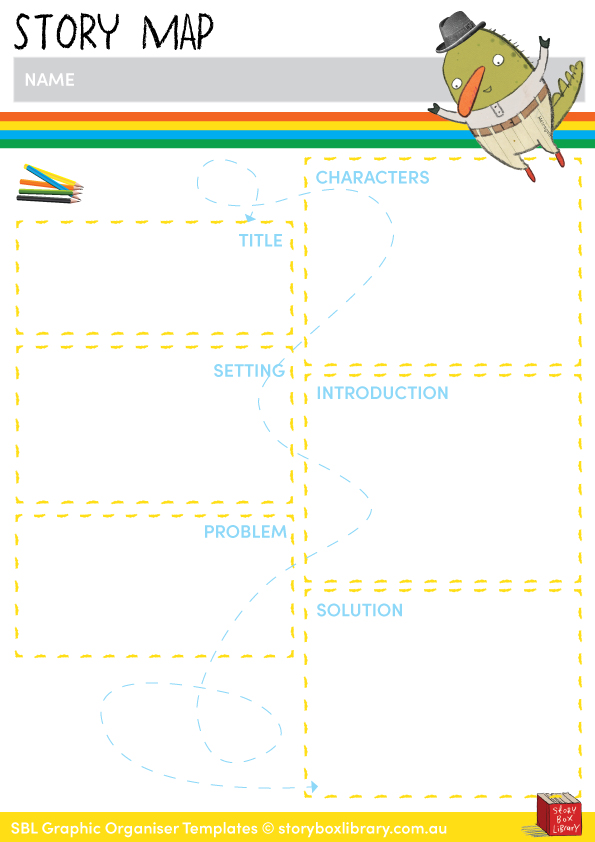 3. Story Map
Particularly useful for children in lower primary years, a Story Map is a great visual tool for identifying and summarising the important parts of a story, particularly narratives. Examples for how they can be used with SBL include:
Identifying and recording the main features of any narrative in our library (such as When the Wind Changed), including setting, characters, introduction, problem and resolution.
Identifying the emotions experienced by the main character at different points in the story. For example on a story map, draw emotion faces to show how Eleanor felt during various moments throughout Too Busy Sleeping (e.g. introduction - when she met her brother; complication - when Reuben was always too busy sleeping; climax - when she hid behind the shower curtain; resolution - when Eleanor played with Reuben).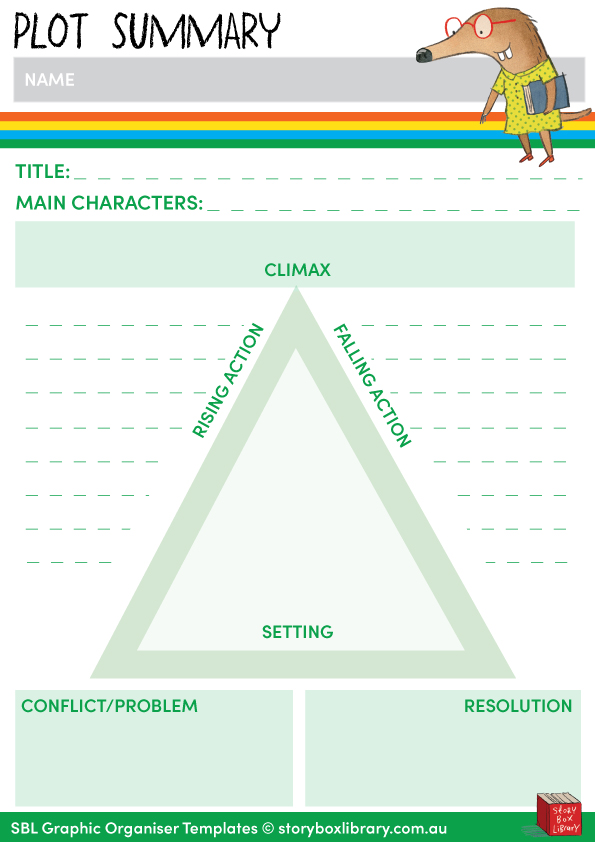 4. Plot Summary
A Plot Summary is also a great summarising tool, but requires more detail than a Story Map. This tool is particularly useful for older students, as they learn more about finer details within the structure of a text, such as rising and falling action, climax, conflict and resolution. This graphic organiser can be used to track the features of any narrative in our library, including:
Poppa Platoon in World War Chew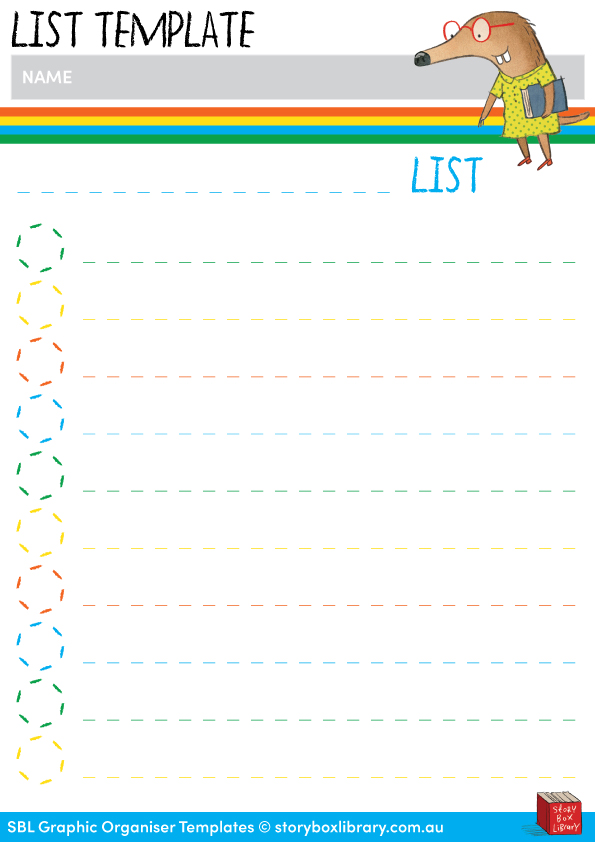 5. List Template
Creating a list is not only a simple way to identify, recall and summarise elements in a story, but also allows children to dig a little deeper and draw on their own prior knowledge and understanding to contribute to their list. Examples for how they can be used with SBL include:
Our Last Trip to the Market: Create a list of signs can you see at the market
Sarah's Two Nativities: Create a list of things you know about Grandmother Azar and Grandmother Maria.
Izzy and Frank: List the materials needed for Izzy and Frank to play the games featured in the story.
The Swap: Write a list of things that cannot be purchased with money.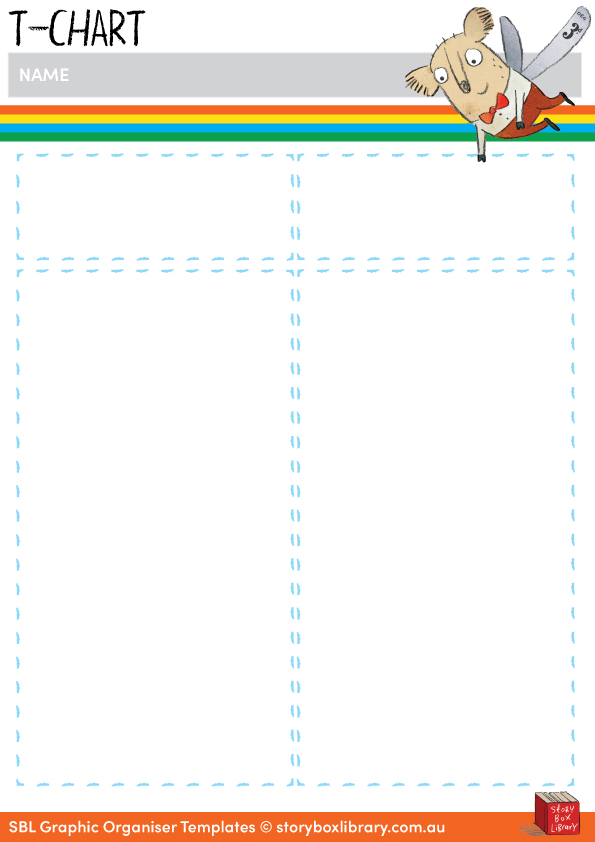 6. T-Chart
A T-Chart helps children visually compare and contrast or sort and categorise elements in a story, developing their ability to analyse a text. Examples for how they can be used with SBL include:
Do Not Lick This Book: Use a T-Chart to sort the information about microbes as factual or fictional.
My Folks Grew Up in the 80s: Use a T-Chart to compare areas of life in the 1980s with our current decade, considering what items, objects, foods or activities have replaced those from the 1980s and how these have changed the way we live.
Lizzie Nonsense: Complete a T-Chart, highlighting the pros and cons of where Lizzie lives.
The Ricker Racker Club: On a T-Chart, make a list of brave and kind acts demonstrated throughout the story.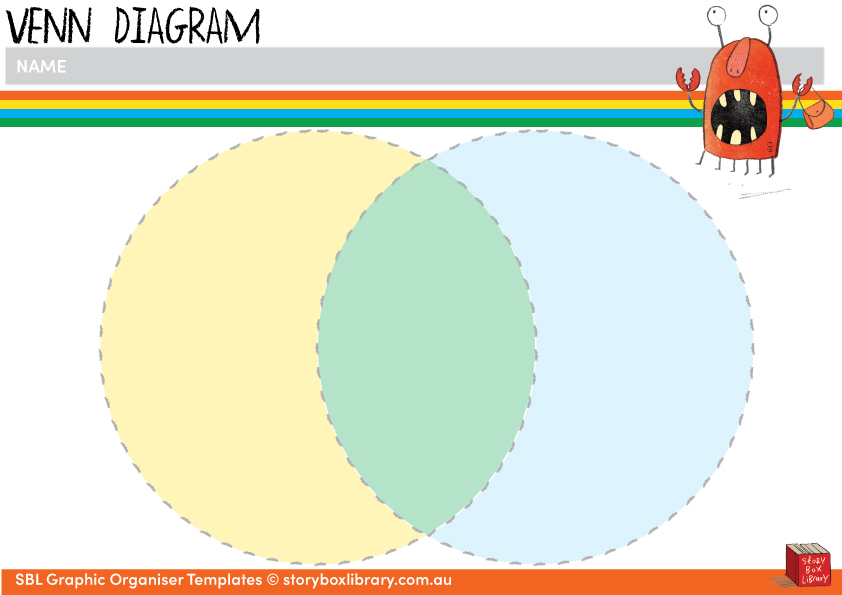 7. Venn Diagram
A Venn Diagram is another great tool for developing the ability to analyse a text, particularly in relation to comparing and contrasting similarities and differences between elements within a text or between texts. Examples for how they can be used with SBL include:
All Through the Year: Choose an event or occasion from the book that your family celebrates. Use a Venn Diagram to show how this event is celebrated overseas in comparison to Australia.
Silver Buttons: Complete a Venn Diagram to show the similarities and differences between your house and Jodie's.
Teddy Took the Train: Use a Venn Diagram to show the similarities and differences between the two teddies in the stories and what they mean to their owners. Can also be completed using Anzac Ted.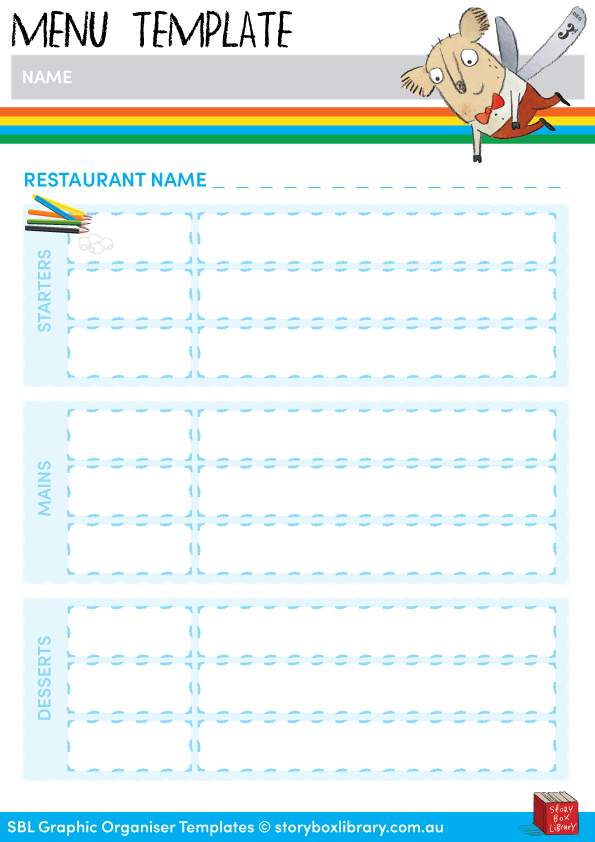 8. Menu Planner
A Menu Planner is a perfect synthesising tool, allowing children to combine their own prior knowledge, creativity and imagination with information they've gathered from the text, illustrations and inferences in a story, particularly those related to the characters. Examples for how they can be used with SBL include:
Shake a Leg: Create a pizza menu featuring a range of creative pizza toppings.
Tottie and Dot: Plan a picnic with your friend. Design a menu and pack a picnic basket with your essential supplies.
Queen with a Wobbly Bottom: Create a celebration menu for the queen, in which every course includes raspberry jelly.
The Ricker Racker Club: Create a menu of disgusting milkshakes for Zac to try.
All Monkeys Love Bananas: Create a restaurant menu of banana-inspired dishes (include entrée, main meals, desserts and drinks) featuring bananas.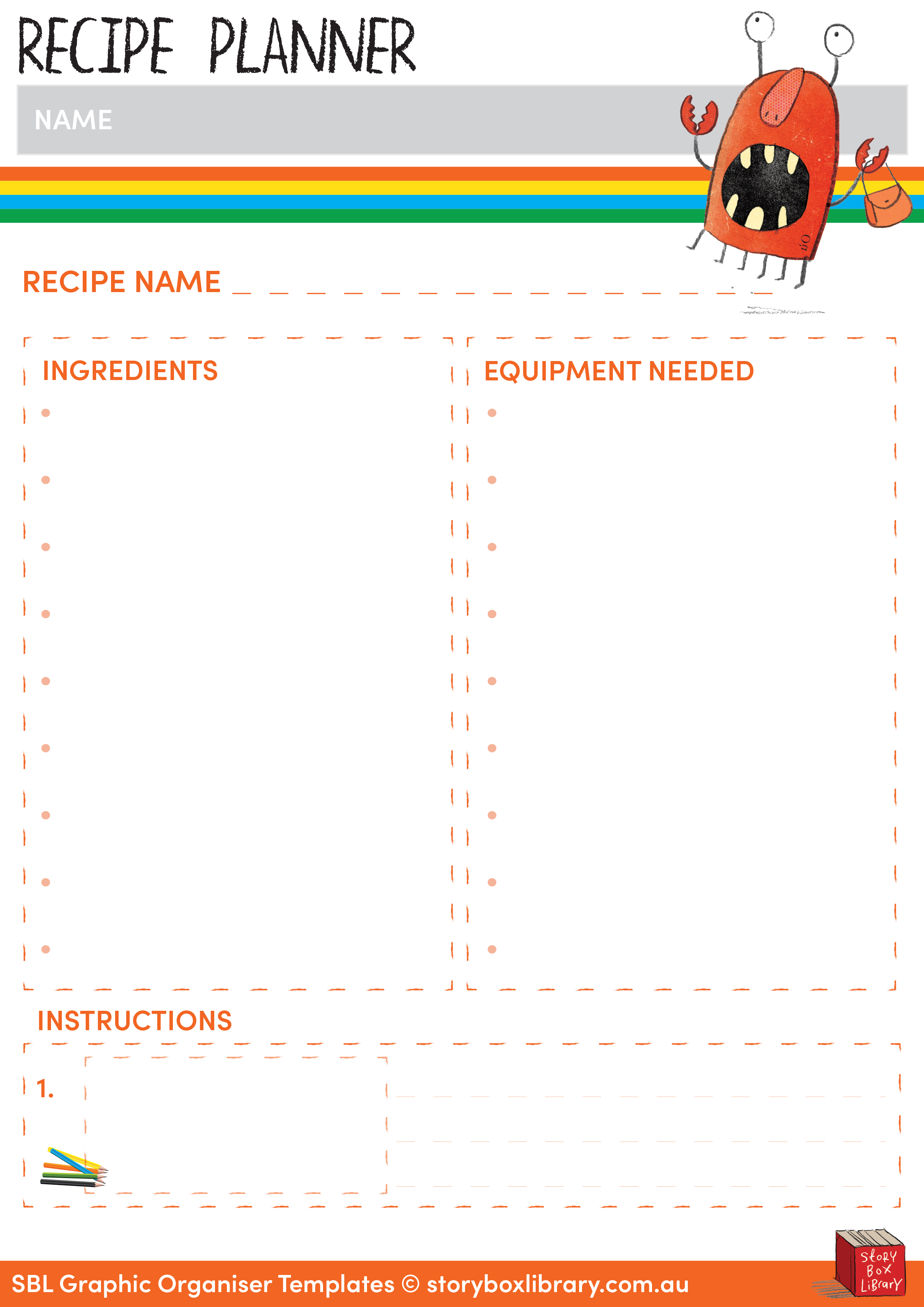 9. Recipe Planner
The Recipe Planner has a similar function to the Menu Planner, helping children to synthesise their prior knowledge with information gained from the story, whilst also displaying creativity, imagination and understanding the features of a procedure text. Examples for how they can be used with SBL include:
Miss Kraken: Use this information to help you write a recipe for the perfect teacher (or perfect class) including ingredients, method and diagrams.
Queen Alice's Palaces: Create and write your own recipe, which uses cheese as a main ingredient.
Perfect: Use your ideas from above to write a recipe for a perfect day for you (Remember to include ingredients and method).
Shake a Leg: Find a recipe or create your own using native foods that grow in your local area.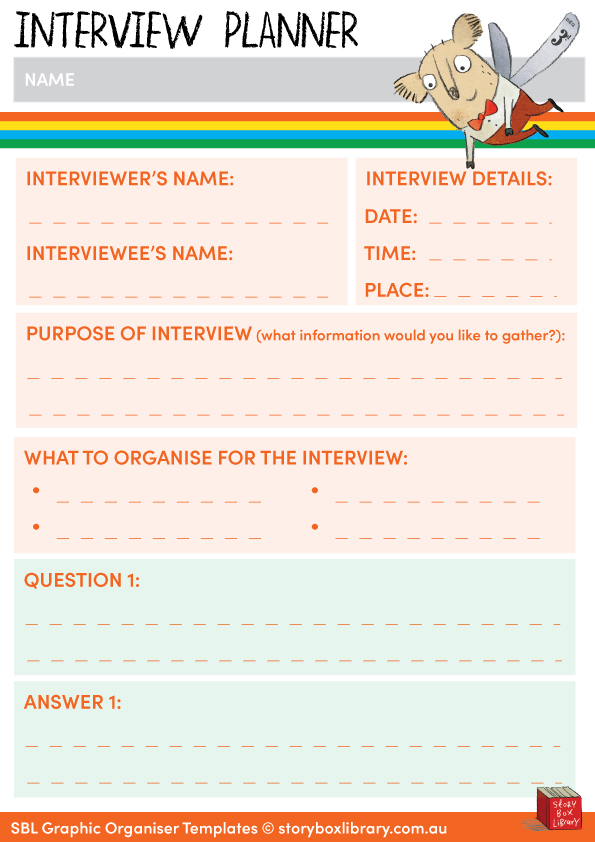 10. Interview Planner
The Interview Planner can be used by children after viewing a story to interview people in their own life. This task helps children make personal connections to a text, provides a springboard for further research into the theme of the story and develops their ability to ask and answer questions. Examples for how they can be used with SBL include:
All Through the Year: Choose an event or occasion from the book that your family celebrates. Interview your parents or grandparents and find out how these events were celebrated when they were children.
My Superhero: Research or interview a real life/every day hero. Find out about them as a person and about their heroic act/s.
The Brothers Quibble: Prepare some questions and interview your parents to find out how they (and your siblings) were feeling the day they brought you home from the hospital.
Out: Interview an Australian immigrant to find out about their experience. Compare their experience to the one in this story.
Applying our graphic organisers and tools
Print the resources for students to complete individually, in pairs or small groups.

Print and laminate the resources, allowing the templates to be reused regularly by students who become familiar with the tools.

Print and enlarge a single copy to be used as a worked example, whereby the task can be completed collaboratively as a class with guidance by a teacher.

Upload the resources as tasks in Google Classroom where students can add their responses by inserting text boxes.