Meet Evie Andrews, school librarian
18 Jun 2021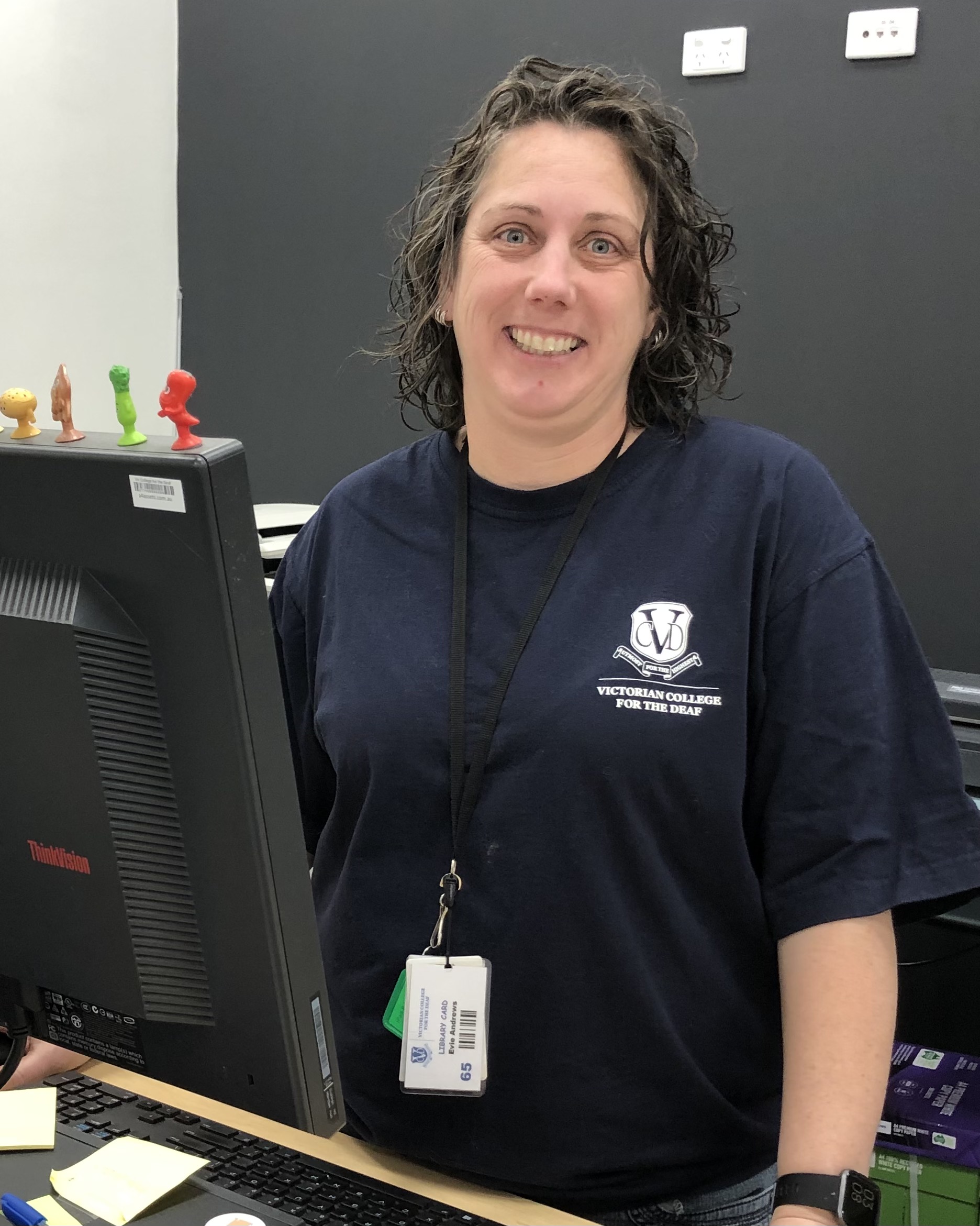 Auslan is increasingly taught in some schools as a LOTE (Language Other Than English). Story Box Library (SBL) is excited to align with Australian curricula and inclusive education practices by releasing 13 new stories in Auslan, the language of the Deaf community in Australia.
Historically, education resources in Auslan have been limited. SBL's incorporation of stories, diverse storytellers, accessible features such as closed-captions, and new Auslan translations, help to address this gap for young Auslan users. SBL story reads provide access to Auslan translations, levelling the language's importance alongside spoken languages such as English.
We spoke with Evie Andrews, a teacher librarian from the Victorian College of the Deaf, on her experiences in Deaf education, and the countless benefits of integrating accessible digital literacy from a young age, with platforms like SBL.
"Auslan interpretations of books really brings a book to life – showing many layers to the story, highlighting visual elements by using three dimensional space," Evie says.
"This interaction fosters the connection to books...It also enhances other children's understanding of literacy in other languages, especially in a strongly visual language."
Many educators have struggled to find educational materials in Auslan, due to a lack of diversity, or copyright and licensing restrictions. Evie says the Auslan interpretations of beloved and diverse stories provide assistance in language modelling, deepen connection to books and a love of reading. Beyond the classroom, students can engage in reading and storytime in the family home using SBL's safe, trusted and easy-to-use platform.
With a wide range of uses for diverse classrooms across the country, SBL's Auslan translations will not only support language and literacy development, but also assist reading beyond the classroom setting.
"One huge issue with deaf and hard of hearing children is their lack of access to the family reading time where an adult reads books with the child, which begins from a very early age," Evie says.
"This resource also offers accessibility to families who have low socio economic and/or with culture and language differences (CALD) backgrounds.
"The rich Auslan modelling will have a great impact upon our students' learning and understanding of language itself...gives students an opportunity to see the bridging between two languages, especially with formal English."
As SBL continues to improve its platform functions, and build upon the representation in the digital collection, the inclusion of Auslan means educators can engage all students. SBL's existing features such as closed-captions and adjustable playback speed improve accessibility and empower teachers to use digital platforms more confidently in the classroom.
"[The Victorian College of the Deaf] plans on using the Auslan interpreted stories to not only engage with our students, but their families and communities," Evie says.
"Most of the families have little understanding or knowledge of Auslan, and we can encourage the families to use this resource to bridge communication between their children and themselves."
Preparing children for a digital world is easy with SBL's trusted literacy and education platform. For educators, it is important to prepare kids with foundational knowledge of using and adapting digital tools, connecting to others, and use technology as a knowledge resource. In Deaf education, Evie says, being digitally literate is particularly key.
"In Deaf education digital literacy includes understanding how to adapt software and hardware for personal use, learning how to use technology to interact with the hearing world such as relay services or captioning, and connecting with others though video chat," Evie says.
"Digital literacy via Auslan video and English captioning enables access to a multi-dimensional model, where students can see both the language, text, and imagery to support their literacy development."
For children, digital learning is natural and equally important alongside traditional methods, and ensuring digital literacy from a young age will set them up for future success.
"In a world that relies on technology, it is critical that we skill students in such a way that they can operate in a digital world," Evie says.
"Students will naturally follow the process as long as teachers and families adapt and change the medium appropriately and ensure it is truly accessible to them."
Auslan releases will become available on Story Box Library from late June. To receive updates and information about children's books, exciting partnerships and new story releases, subscribe to our monthly newsletter here.
To explore the full list of titles available in Auslan, read more on our blog.
Learn more about the ways Story Box Library is working to improve representation and cultural diversity through children's literature.