Watch our online event: Building Confident & Creative Writers
Story Tools
Professional Development
07 Jun 2023
Hosted by author and Story Tools creator Melissa Keil, watch the fantastic panel discussion with award-winning authors George Ivanoff and Nova Weetman, from Story Tools Series 1, plus teachers and education experts Nina Perkinson and Lauren Tomlin, discussing how to nurture student creativity, with practical tips and takeaways.
This online event is intended for primary school educators, particularly middle to upper primary teachers of Years 3-6 students, however, families, public libraries and all creative industry professionals looking to encourage creativity in young writers would benefit from attending.
Click here to watch the event recording.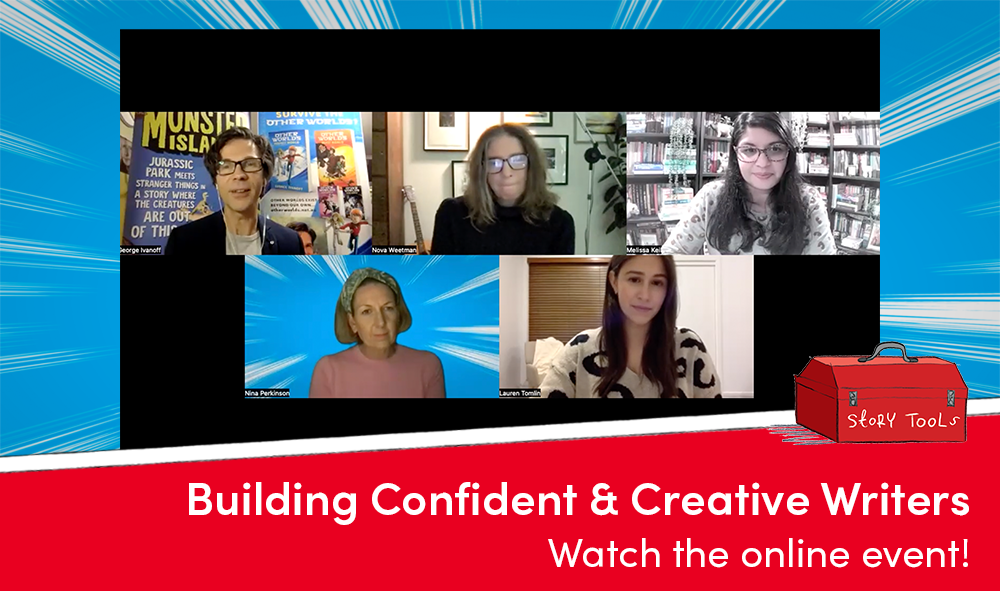 Story Box Library's series of Professional Development events can be accessed for educator professional development, contributing towards addressing Australian Professional Standards for Teachers.
To explore the suite of Professional Development webinars and training for primary and Early Learning Centre educators, librarians and families, visit our PD Resources page.
Try a free lesson of Story Tools
Join other middle and upper primary educators in inspiring creativity, and encouraging students with their creative writing, and see what Story Tools has to offer. Click here to begin!
About Lesson 1: Story Sparks
Hosted by award-winning authors George Ivanoff and Nova Weetman

A short video introducing students to the idea of story inspiration, plus practical tips on how to find story ideas from published authors

Lesson plan containing two activities and other engaging printable resources
Series 1 is now available and early adopter feedback supports high levels of student engagement with positive written outcomes, covering storytelling foundations, narrative styles and more. Series 2 is set to be released later this month on Tuesday 20 June, and Series 3 will become available in February 2024.