Stories for Refugee Week
Educators
Parents
Classroom Resources
08 Jun 2021
Refugee Week (20-26 June 2021) is Australia's peak annual activity to inform the public about refugees and celebrate positive contributions made by refugees to Australian society. Across the country, educators, librarians and families can use this week to raise awareness about the importance of people being able to seek safe asylum, and the ongoing challenges faced by refugees and migrants today. The World Refugee Week 2021 theme is: Unity – The way forward. Use our stories to inspire children of all ages, helping them to engage meaningfully diverse narratives, and deepening their understanding of their local and global worlds.

A story for young children about a grandmother's journey as a little girl from Vietnam to Australia, Grandma's Treasured Shoes is a refugee story told through engaging illustrations and a gentle, rhythmic story by author Coral Vass and illustrator Christina Huynh. This sensitively told story encourages children to understand the plight felt by refugees, in the past and today, and to appreciate the contribution that refugees have made in shaping this nation.
Told by Enya Lucas and her grandmother Van Luu with a special afterword about Van's own experiences as a refugee.

Room on Our Rock celebrates the truth that there are two sides to every story. This clever picture book has one story that can be read two different ways. When read from front to back, the seals believe there is definitely no room on their rock for others. But when the book is read from back to front, the seals welcome others to shelter on their rock. A heartwarming story about sharing and compassion.
Kate and Jol Temple's story is magical, with a subtle moral about inclusion as opposed to exclusion, welcome rather than rejection and the power of words. The fabulous watercolour illustrations are by Terri Rose Baynton, and it's read delightfully by actor/presenter Jay Laga'aia.
By author Lucy Estela, one of the most moving, powerful and important stories of recent times. As much about personal themes of growing up, friendships, coping with being different and loneliness, the story also encompasses more universal themes of displacement by war and the power of the human spirit.

As the sandpiper nears the end of its journey, a feather is shed near Mia's house, which is calm and quiet, and a deliberate reminder to all who live in peace and safety how lucky we are. Author Phil Cummings uses simple yet powerful text in this deeply poignant story that is illustrated so exquisitely by Phil Lesnie.
Beautifully told by actor, writer, spoken word artist, and stand up comedian Osamah Sami, Feathers is an important story to share and encourages a different way of looking at the world.
The words by author Angela May George are a gentle and poignant portrayal of the asylum seeker experience, told from an unnamed and unknown girl's point of view. The textured illustrations by Owen Swan are deliberately rough to show that the experience of the dispossessed is not neat and comfortable.
Out is a story that needs to be told... and is done so, beautifully, by storyteller Pia Miranda.
An important story of immigration and belonging to share with Australian children tenderly told by Irena Kobald and intricately illustrated by Freya Blackwood.
View special editions of My Two Blankets in Dari (read by Zakia Hassan), Farsi (read by Ensie Anjedani) and Arabic (read by Mohammed Sharabah) and also Meet Belle Alderman and learn about NCACL (National Centre for Australian Children's Literature).
The following stories are not suitable for children under the age of 10
When our reader, Kitia Altman was asked to read this story - The Treasure Box by Margaret Wild and Freya Blackwood - she was incredibly honoured.
Kitia's own background was as a Holocaust Survivor from WWII, who came to Australia as a refugee just after the war ended.
She was awarded an Order of Australia Medal in recognition of her work to raise awareness of the Holocaust to the community. The themes this story tackles - identity, perseverance, resilience, hope and survival - were all a big part of Kitia's personal story, making the symbolism even more powerful.
This could happen to you. What would happen if a typical Australian family found themselves refugees?
We're a typical Australian family. Barbeques, footy, gardening, school, Holden Commodores . . . Then one day things change.
Home and Away is a powerful, heartbreaking and thought-provoking story written and read by author John Marsden with illustrations by Matt Ottley.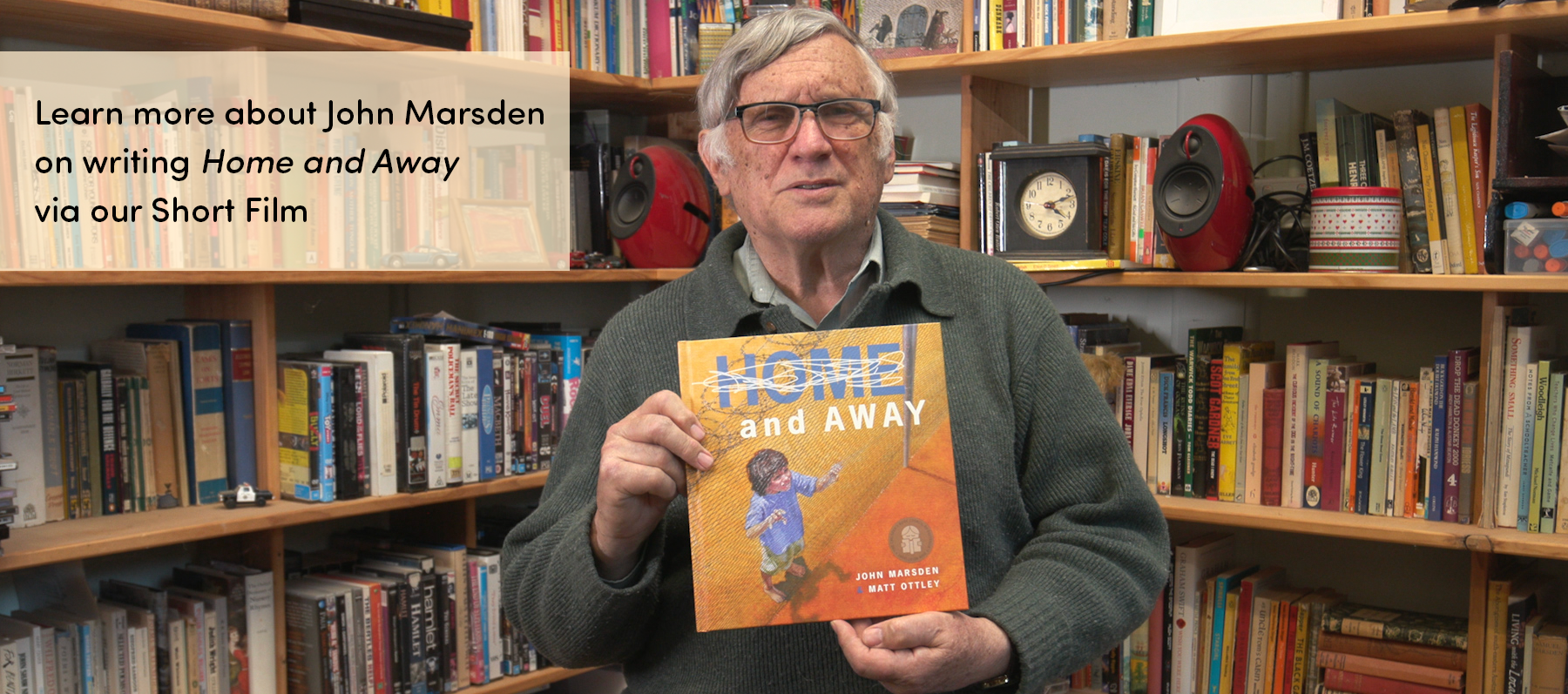 Explore more stories about belonging and community here.
Sign your school up for a free 30-day Story Box Library trial.