Q&A with Early Childhood educator Sami Truscot
05 Jun 2023
"Story Box Library is a fantastic tool to utilise during quiet times during the day, to extend group times and to explore books and stories that we don't have copies of at our service."
Sami Truscot is the Educational Leader and Assistant Director at the Y Holder Early Learning Centre in Canberra, which utilises a Resources for Infant Educarers (RIE) approach to education and care and has one of the biggest outdoor playgrounds in Canberra. The Story Box Library team spoke to Sami about her use of Story Box Library at the Centre and in her teaching practice, incorporating digital technologies into childhood play and learning.
1/ In what ways do you incorporate Story Box Library into the learning of the children at your centre?
Story Box Library is a fantastic tool to utilise during quiet times during the day, to extend group times and to explore books and stories that we don't have copies of at our service. It's also a much better option than YouTube because it doesn't contain ads and you can be sure that the recording is of an excellent quality.
2/ Are there any recommendations you have for how you'd like to see Story Box Library further develop to suit the Early Childhood sector?
Stories from other services on how they utilise Story Box Library within their curriculum and provocations based on the stories within Story Box Library. That way there is a degree of flexibility in how educators can implement the learning experiences, allowing them to bring their own knowledge and skills and incorporate them into an experience.
3/ Are there other digital resources that you'd recommend to your peers?
Some resources we use are Cosmic Kids Yoga, Spotify (for streaming songs, stories, podcasts and audiobooks), Chrome Music Lab and cameras for videos and photos.
4/ What do you think are the challenges and benefits of incorporating media and digital technologies into children's multimodal play?
I think one of the biggest challenges is pitching it to parents. If I was just a parent and walked into my daughters early learning centre to find them all staring at a screen, I would definitely have some questions about what they were doing and the educational benefit that it provides.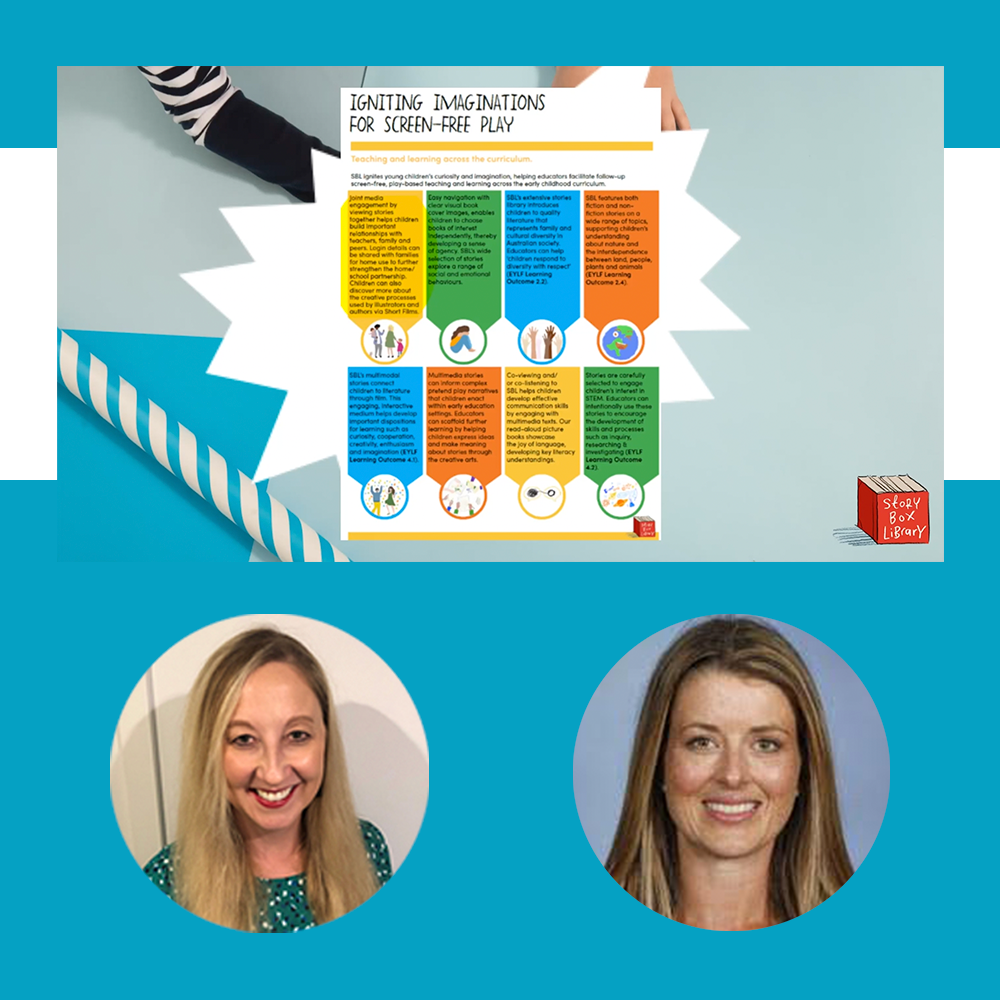 Digital technologies shouldn't be used for the sake of using them, and as educators we need to be aware of the benefits and risks in using them, so we can make an informed decision about using them in our programs, but also, to accurately explain to parents why we are choosing to use technology in this way.
Watch Mythbusting Screen Time for Kids
Watch our expert discussion, featuring Early Childhood education teacher and consultant Linda Harrison, and Story Box Library's Education Resource Developer, Amelia Otto, as they bust myths about screen time for young kids, and explore how digital technologies can enhance creativity and learning. Only available to active subscribers. Watch now