The book improving First Nations' history in schools across the country
Inspiration
Storytelling
Behind the Books
26 Oct 2022
Yorta Yorta and Gunditjmara man and celebrated musician Isaiah Firebrace witnessed an absence of history being taught in the classroom of his own culture, and the world's oldest civilization. In November of 2021, Isaiah presented a petition to Parliament and the Department of Education, calling to have Indigenous history classes implemented into primary and secondary schools. What started out as a petition inspired by his own personal experiences, quickly obtained support and received almost 300,000 signatures.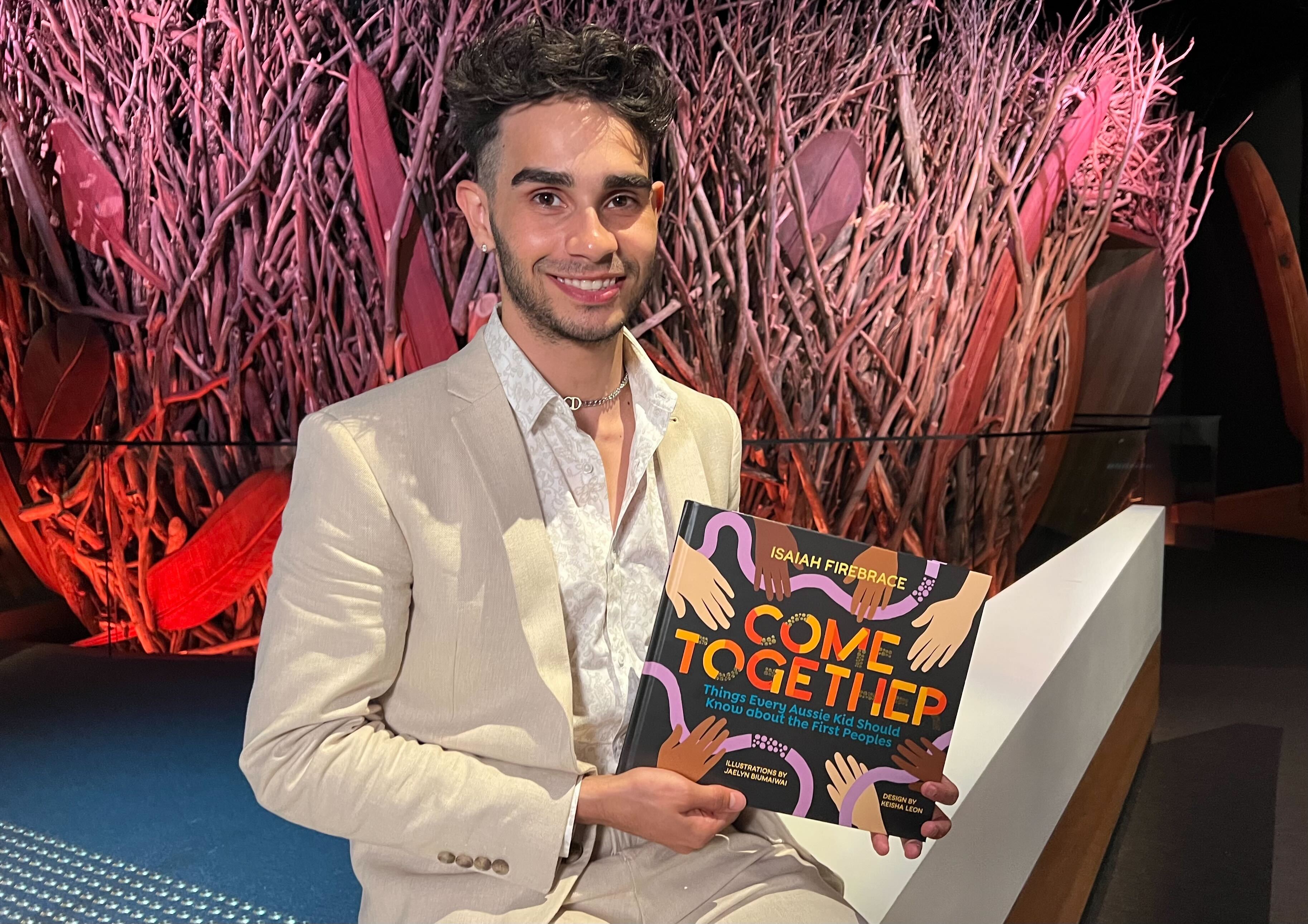 Following Isaiah's well-received movement, his new children's book Come Together: Things Every Aussie Kid Should Know about the First Peoples represents the next chapter in his already remarkable story and his debut into the world of children's literature. Inspired by his petition, the heart-warming children's book aims to give kids aged 5 and up, and adults, a foundation of First Nations' knowledge over 20 key topics.
With the announcement of his book release on 16 November 2022, Story Box Library was thrilled to be collaborating on this remarkable book; a special commemoration that draws on the history, culture, and knowledge of First Nations' peoples that explores important topics on the difference between a Welcome to Country and Acknowledgement of Country, a history of Aboriginal Songlines, the diversity of First Nations' languages and clans, the importance of Elders, the Indigenous origins of AFL and much more.
The children's book has been created as both a celebration of First Nations' culture and an education resource that is crucial in helping children and adults grow up with a better understanding of Indigenous culture. It was only fitting that the story would be filmed by Story Box Library at the Bunjilaka Aboriginal Cultural Centre at Melbourne Museum, a place developed to empower Aboriginal people to interpret their own cultural heritage for both Indigenous and non-Indigenous people.
Come Together: Things Every Aussie Kid Should Know about the First Peoples
Come Together: Things Every Aussie Kid Should Know about the First Peoples is a heart-warming story for children aged 5 and up from pop artist Isaiah Firebrace, inspired by his petition to the Australian Government calling for Aboriginal history to be taught in every classroom.
In this essential book, Isaiah, a Yorta Yorta and Gunditjmara man, establishes a foundation of First Nations' knowledge with 20 key topics. Alongside bright and contemporary illustrations by Mununjali and Fijian artist Jaelyn Biumaiwai, Isaiah connects us to each topic through his own personal story and culture, from the importance of Elders to the Dreaming.
At once accessible and engaging, Come Together: Things Every Aussie Kid Should Know about the First Peoples will make every Aussie kid proud that we are home to the longest continuing culture on Earth!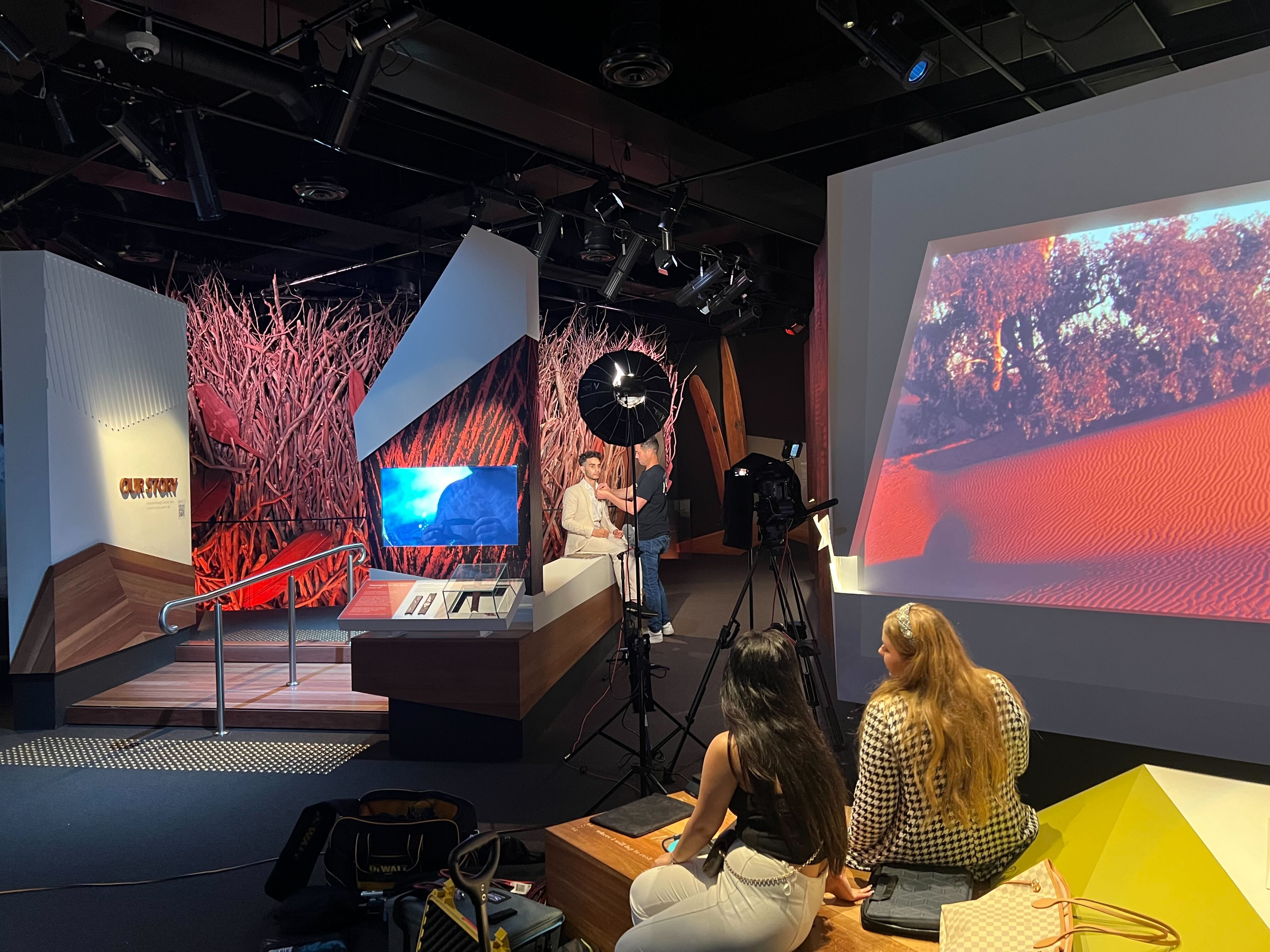 "It was such a lovely experience working with the team from Story Box Library and reading my book for the first time at the museum was such an emotional experience for me. This book is so important to me and I hope everyone loves it as much as I do."

- Isaiah Firebrace
Established in 2013, the Bunjilaka Aboriginal Cultural Centre opened the First Peoples exhibition that celebrates the history, culture, achievements and survival of Victoria's Aboriginal people, allowing a deep connection with the personal stories and teachings presented in the children's book.
At 22 years old, Isaiah Firebrace has continued his commitment to mentoring and changing the lives of Indigenous youth that has seen him tour all corners of the country speaking to young people and offering his personal story of hope and inspiration. Amongst all his achievements, Isaiah's creative adventures started with a swift singing career after winning the 8th season of X-Factor in 2016 and not long after representing Australia in the 2017 Eurovision Song Contest, finishing in the top ten.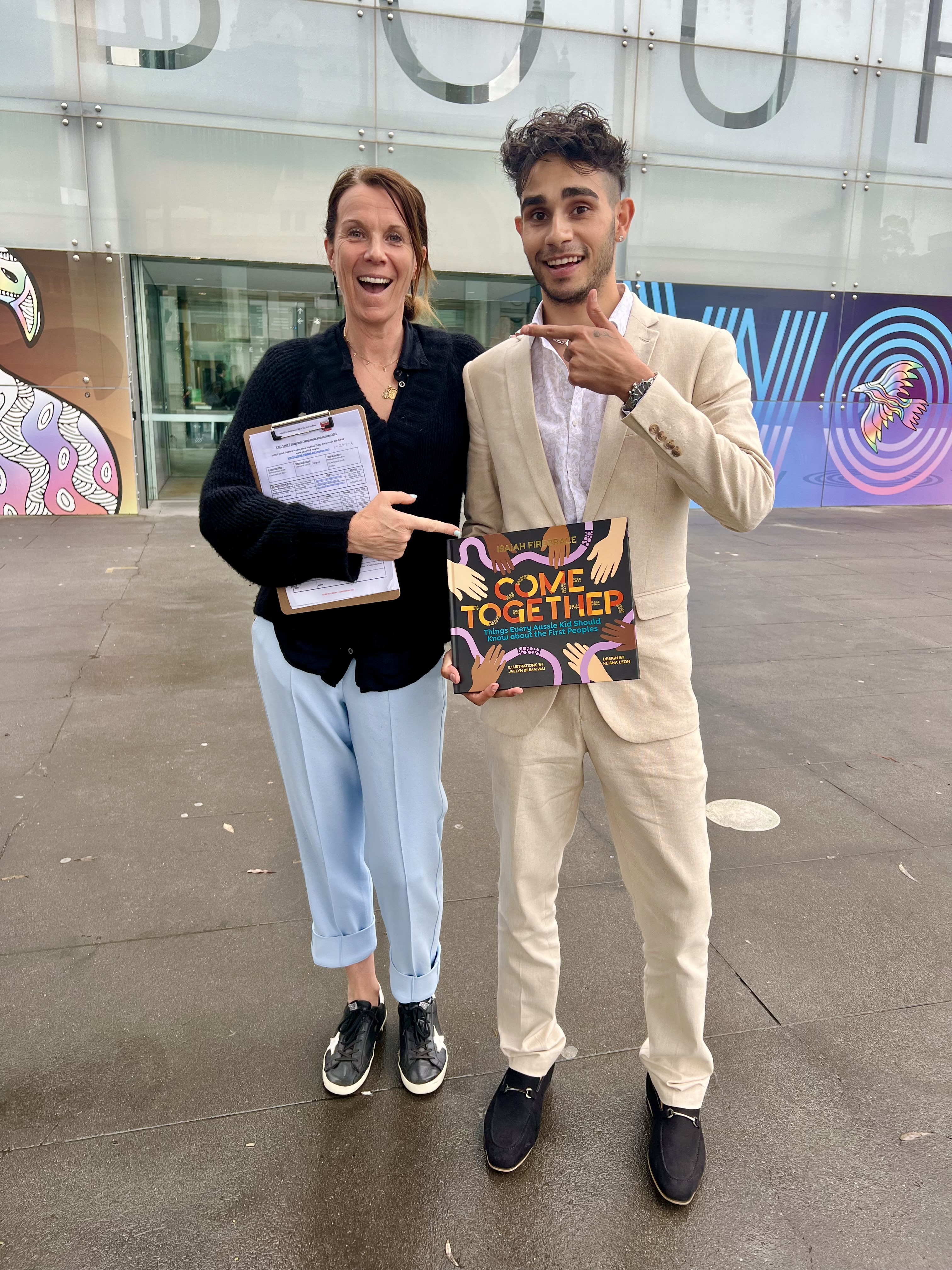 From Story Box Library Producer & Director, Shona Van Lieshout (pictured right with Isaiah)
When Story Box Library selects a new story to feature in our collection, we need to decide on a suitable storyteller for the book read and then where the reading should take place. From the minute we saw Isaiah's book, we knew it was very special, and we knew we needed Isaiah to read it and choose the right location that has a connection to First Peoples and to this story. We contacted the Melbourne Museum, and our application was presented to their First Nations Team who need to approve what can be filmed at the Bunjilaka Aboriginal Cultural Centre. The Museum got back to us immediately saying they would be delighted to have Isaiah read his book there.
Isaiah arrived with Bella from his Management team and his girlfriend Stephanie straight from a flight from Canberra where he'd been performing that day. From the moment he arrived he was warm, engaging, friendly and completely committed. It was evident to all of us how passionate and devoted he is about this book and his goal to further educate as many young Australians about First Peoples as possible. The shoot ran so smoothly and by the end - which was quite late at night, everyone in our production team and from the Museum were very moved by Isaiah's fabulous read. We all learnt something new.
Isaiah read in front of the Eagles nest installation. Bunjil, the Eagle is the creative spirit for the people of the Kulin Nation for Melbourne, so it seemed like a very appropriate and fitting backdrop. The colours of the nest were vibrant pink and red, and complimentary to the beautiful illustrations by Jaelyn Biumaiwai and Design by Keisha Leon. We also filmed some lovely overlay of Isaiah looking at the First Peoples exhibition and walking around the native plants in the Milarri Garden trail.
It's film shoots like this where we feel very fortunate and excited to work with such creative, passionate and talented people like Isaiah, our fabulous crew and the dedicated team at Melbourne Museum.
This is a story that not only every Aussie kid should read, but also every Aussie teenager and adult.