Reading & Activity Challenge: Connecting Family with Stories
31 Aug 2023
Celebrating families of all kinds, from rainbow families to multi-generational family connections and more, Story Box Library has a diverse and wonderful library of stories to explore with children of all ages. Encourage kids to engage in rewarding activities alongside story reads during the school break and beyond, with our Reading and Activity Challenge: Connecting Family with Stories.
With Activity Time resources to support creativity, fun and quality family time, and Short Films available to learn more about our story creators, kids and families, subscribers can let imaginations fly!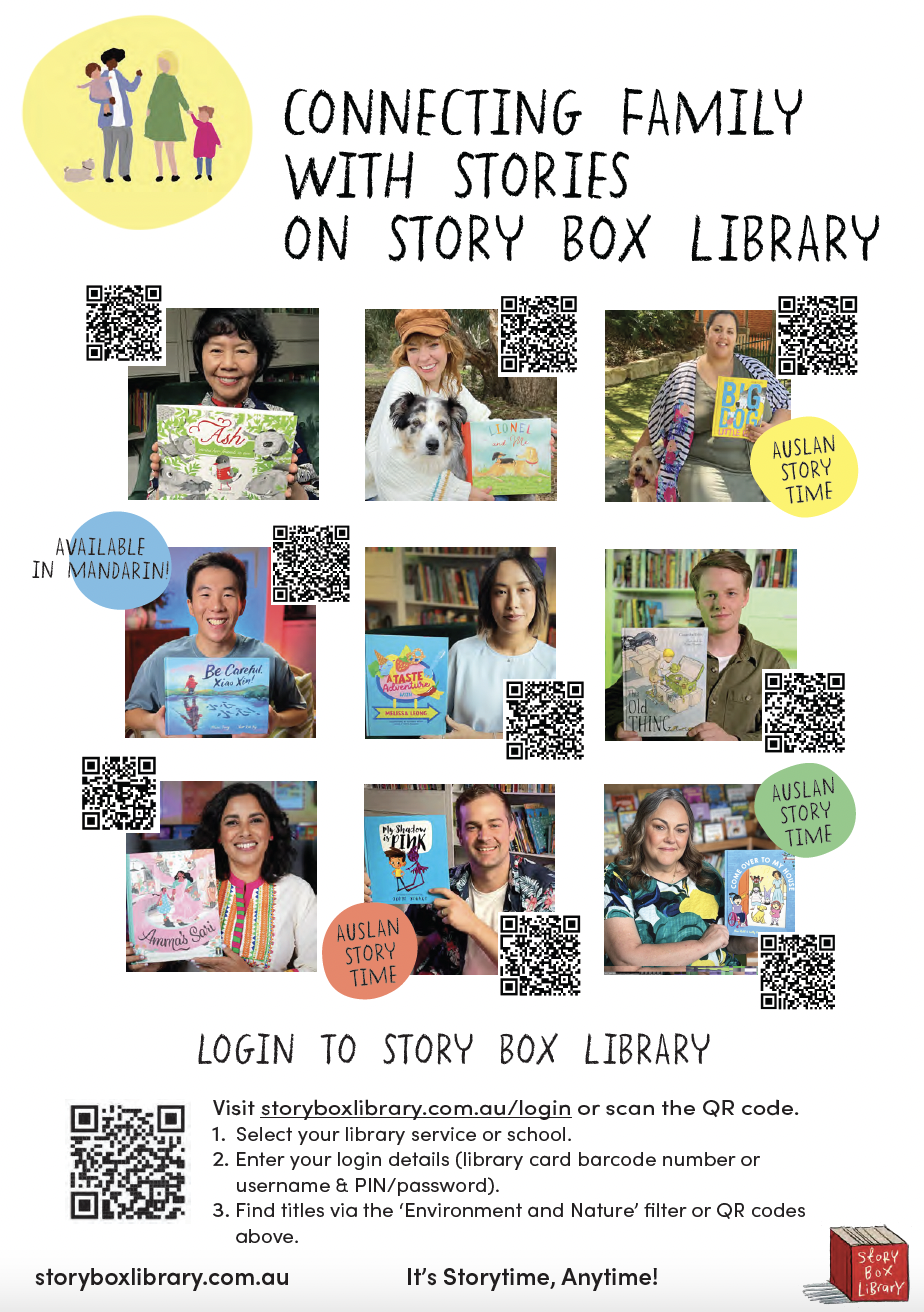 Get involved in the Connecting Family with Stories Reading & Activity Challenge in four steps:
Watch the story read.

Connect with Short Films.

Play with Activity Time.

Borrow and discover more!
Download Reading & Activity Challenge resources here, including reading checklist, certificate of participation and printables for public libraries and families.
1. Watch the story read.
Find stories via the 'Connecting Family with Stories' playlist on your Story Box Library account dashboard, our Family theme filter, or explore a selection of new releases below:
Xiao Xin believes he is a red fire warrior but his family are always telling him to be careful. They believe the world is a dangerous place. Too dangerous for a little boy on his own. Available in English and Mandarin.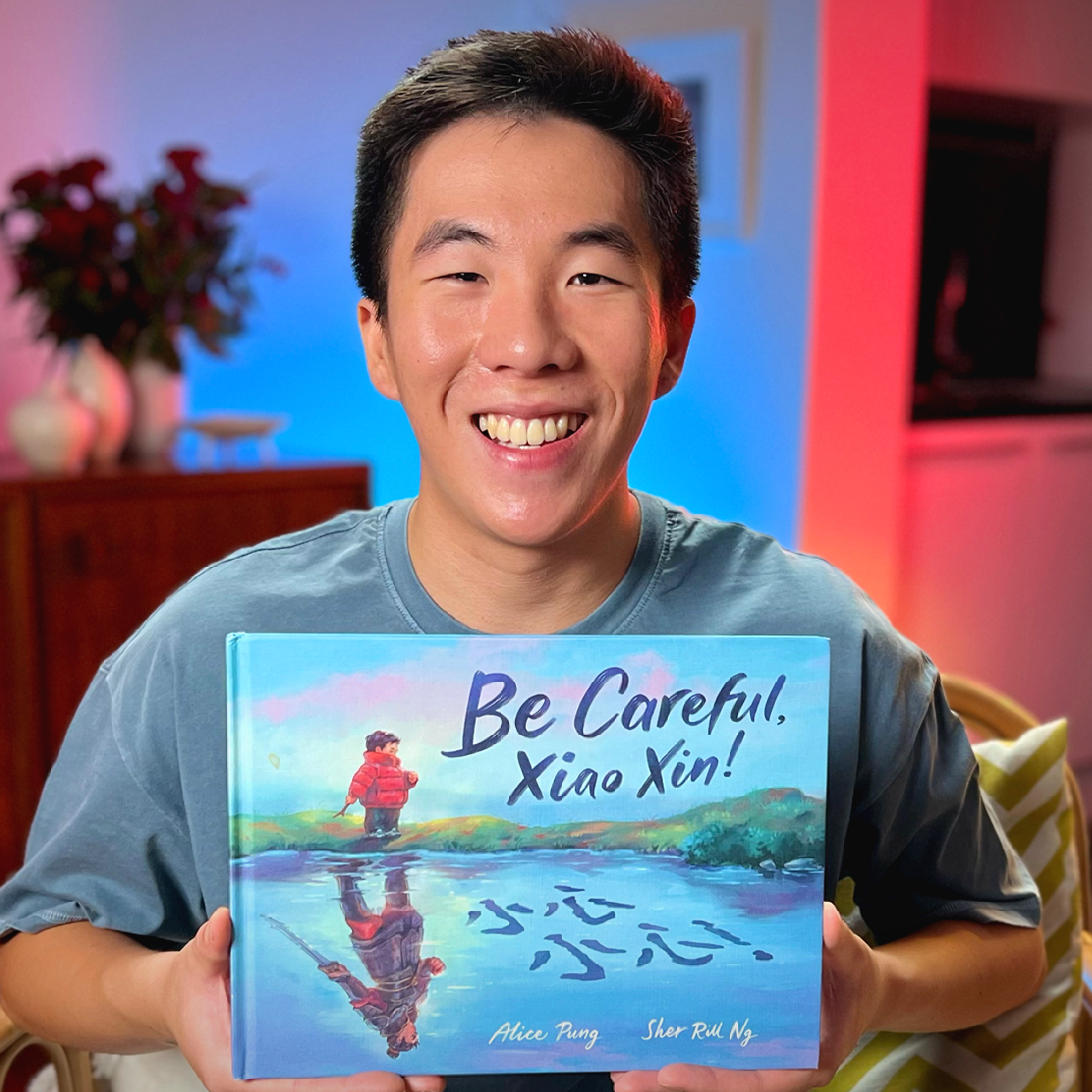 A delightful picture book that explores the home lives of children and parents who are Deaf or disabled. Also available in Auslan.
My Shadow is Pink is a beautifully written rhyming story that touches on the subjects of gender identity, self acceptance, equality and diversity.
Inspired by the author's own little boy, 'Shadow's' main character likes princesses, fairies and things 'not for boys'... he soon learns (through the support of his dad) that everyone has a shadow that they sometimes feel they need to hide.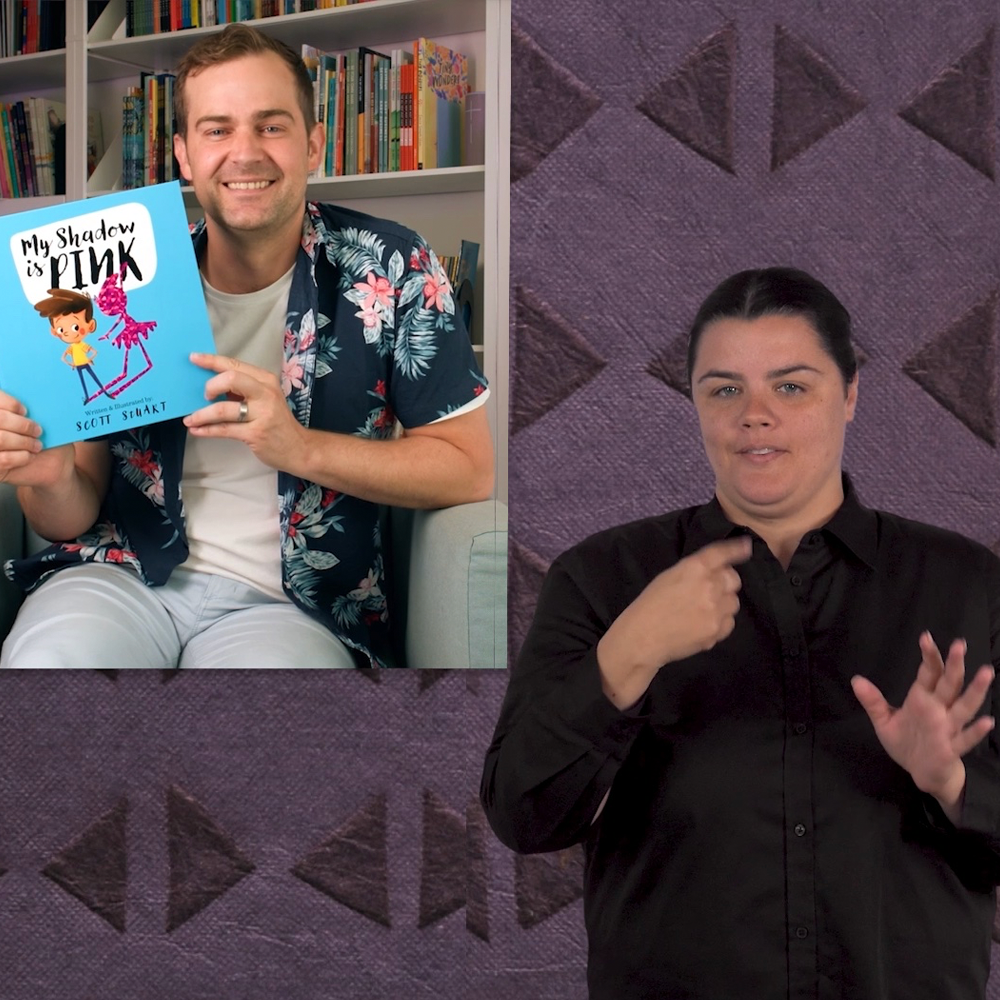 When Lionel arrives, Maverick is unimpressed.
Is there enough love to go round for the two of them?
A delightful story that celebrates inclusion and friendship. Written by Corinne Fenton, illustrated by Tracie Grimwood and read by Chloe Hayden.
A Taste Adventure with Melissa Leong
There's sweet, salty, bitter and umami
Doesn't that last one sound a bit funny?
Sour and spicy are just as neat
Together, these six tastes are in the foods we eat.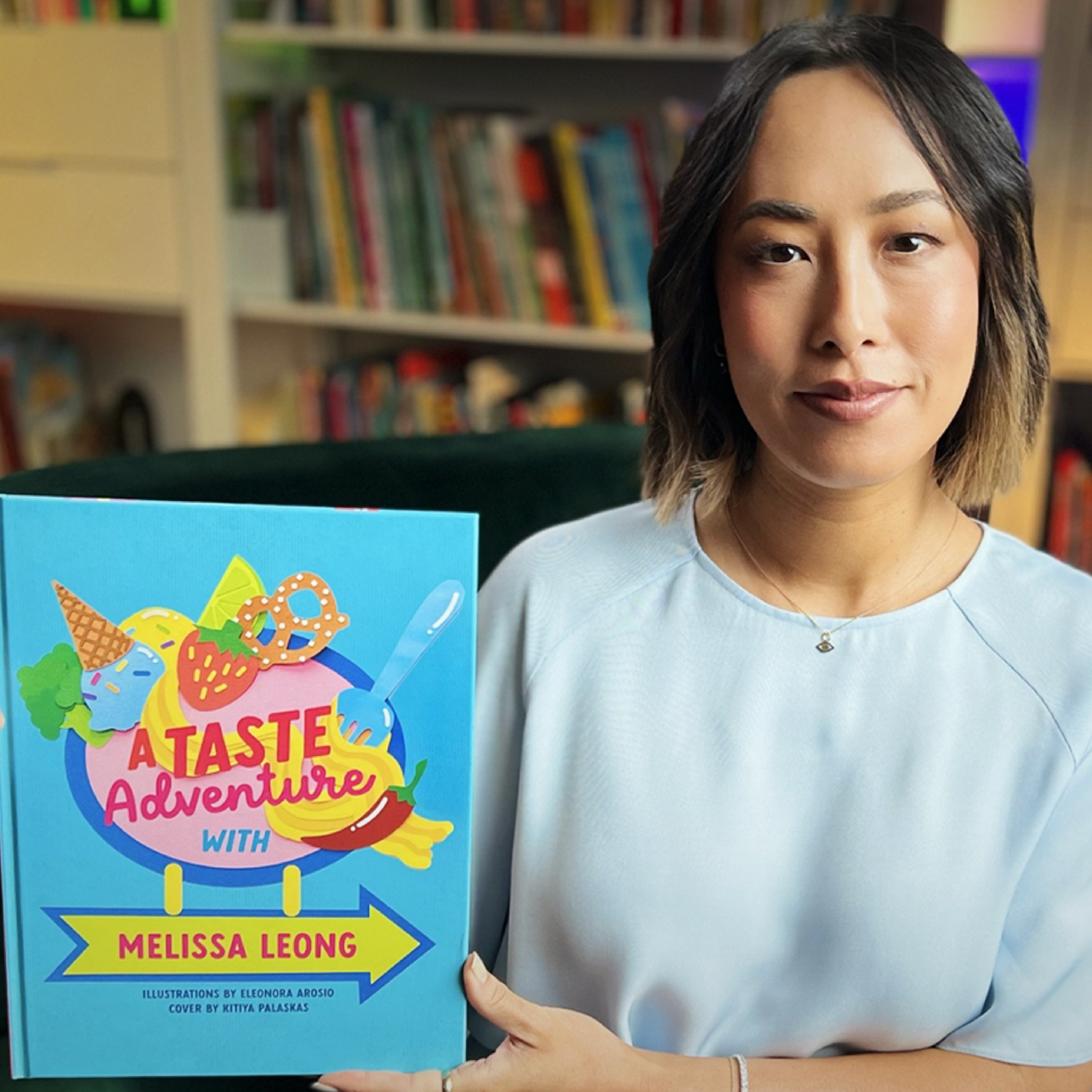 Popular Australian TV host and author Melissa Leong will eat anything once on the quest for an unforgettable food experience and she encourages us to be adventurous eaters too! In this story, Melissa invites young readers on a delicious adventure, exploring the six tastes found in a range of popular and unique dishes that we celebrate as staples in multicultural Australian cuisine.
Ash Invites Her Friends to Tea
Ash loves listening to her grandpa's stories.
When he tells her about some magic leaves, mysterious animals start to appear!
A charming tale of family love, traditions and tea time friends.
Written and illustrated by Fu Wenzheng and read by award-winning author and Australian Children's Laureate (2022-2024), Gabrielle Wang.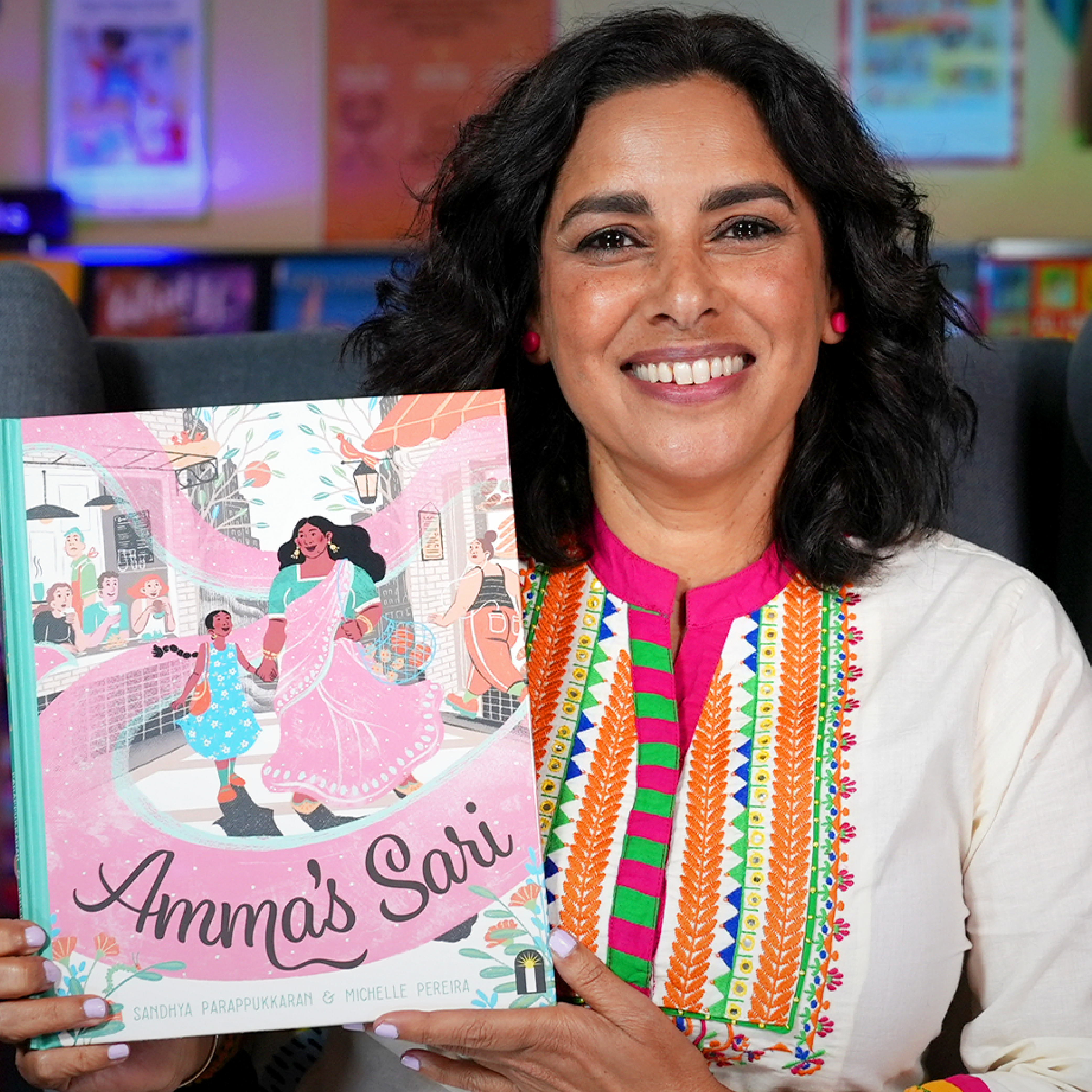 My Strange Shrinking Parents
One boy's parents travel from far-off lands to improve their son's life. But what happens next is unexpected. What does it mean when your parents are different? What shape does love take? And what happens when your parents sacrifice a part of themselves for you?
Winner of the 2023 CBCA Picture Book of the Year award.
When a young boy is asked to bring an object to contribute to his class ANZAC project, he finds all kinds of old things—some wildly exciting, others more confusing. But a faded, forgotten photograph of his great-great-grandfather makes sense of everything...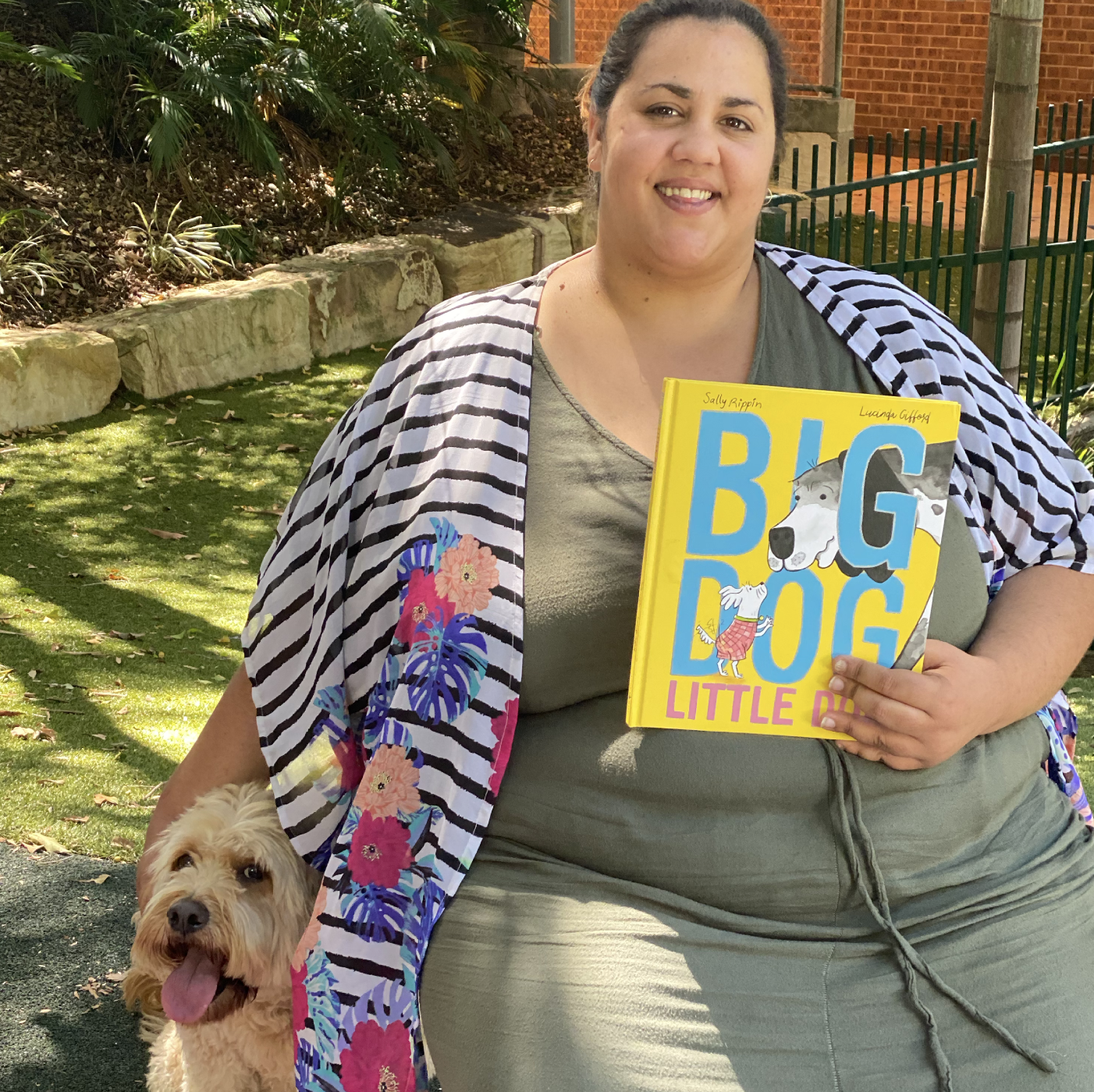 Amma's Sari
As a second-generation migrant, 6-year-old Shreya's life tilts between her life at home and the outside world. While her love for family lifts her up, her spirits plummet at the stares and whispers that her mother's sari attracts. When Shreya finds herself lost in a crowd, it's the shimmer of Amma's sari that leads her to finding pride in her difference.
First there was just Big Dog. And then, one day, Little Dog arrived…
A beautiful and hilarious story about the ups and downs of welcoming a new family member.
Also available in Auslan.
2. Connect with Short Films.
Our Short Films go beyond the book, with exclusive behind the scenes interviews with story creators and storytellers, designed to be incorporated into library storytime, or watched at home by patrons and families. Once children have watched the story read in our digital collection, encourage them to discover more via funny, inspiring and engaging Short Films. Explore Short Films on Story Box Library here.
Meet our Storytellers - Trystan Go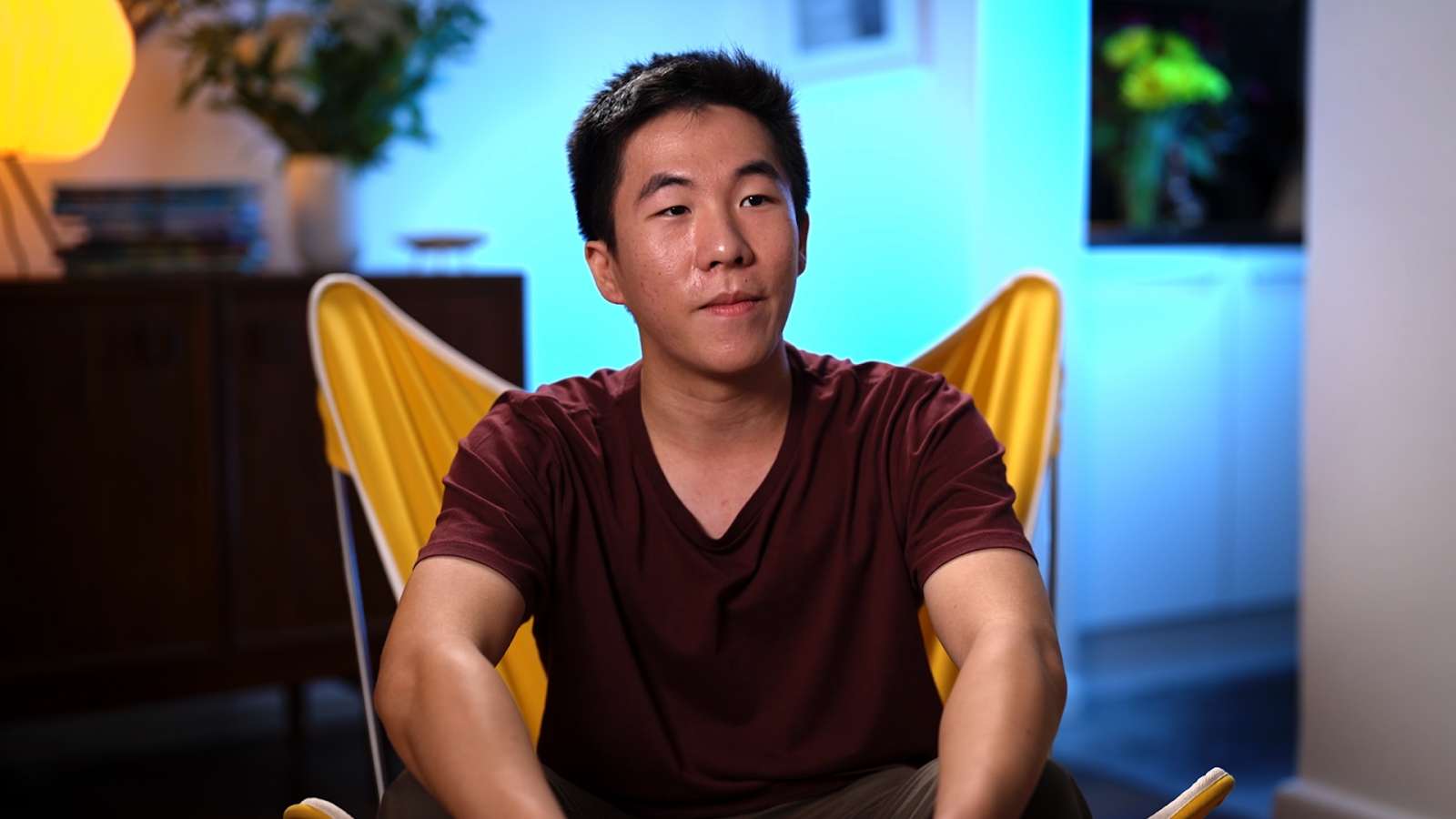 3. Play with Activity Time.
Activity Time resources accompany each story read in our digital collection, and offer easy and engaging ways for kids to get creative after watching a story read. From home-made instruments, crafty projects, scientific experiments and more, active subscribers can access a range of fun activities for children of all ages. Find Activity Time instructions via the 'Activities' tab on individual story pages, or watch Activity Time instructional videos here.
4. Borrow and discover more!
Using bookmarks from our Reading Challenge resources, encourage students and children to borrow hard copies of stories from the school or public library, and leave a note or review for the next person to discover. Reading Challenge resources also include a printable A4 Shelf Talker so that children can discover stories quickly and easily via QR codes.