Meet Karys McEwen, school librarian & President of CBCA Victoria
26 May 2021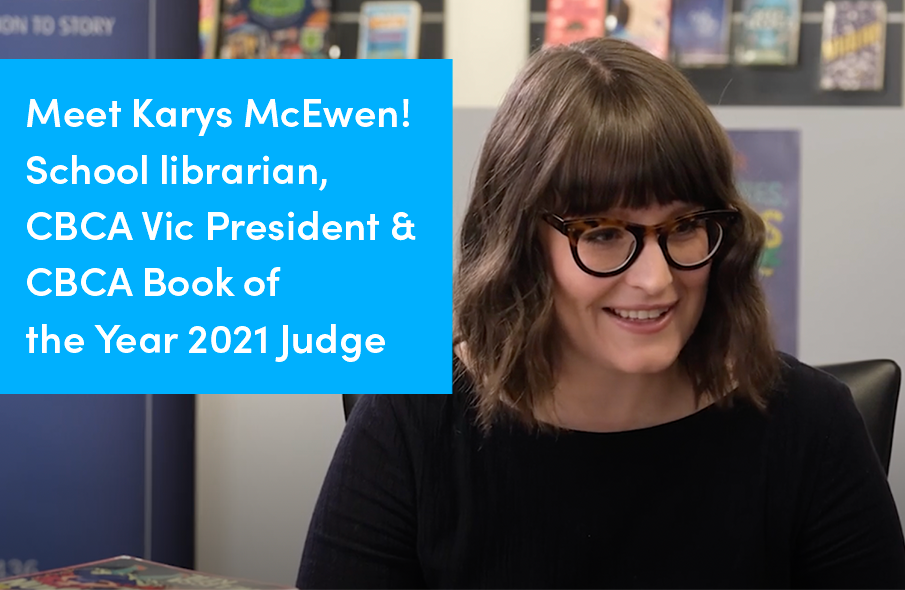 Wanting to connect with like-minded people, school librarian Karys McEwen joined the Children's Book Council of Australia (CBCA) Victoria Branch committee in 2016. As a child, Karys had dreamed of being a librarian, being surrounded by books and the wonder of stories, but thought it was only something you could do once much older, and retired!
Luckily, organisations like CBCA have allowed Karys to expand her horizons, network with fellow literature lovers and inspire younger generations to engage in learning and stories. Now having been working as a librarian in school libraries for eight years, including starting two libraries from scratch at two separate high schools, Karys is spreading the word for libraries far and wide.
"I am fortunate that my parents read to me from a young age and I was always surrounded by piles of reading material," Karys said.
"We regularly visited the local library and all my pocket money went towards new books. I am forever grateful that reading was a big part of my childhood.
"I truly believe being a reader makes you a better person. And books are accessible for everyone."
Some of her early memories of Australian young adult fiction classics include the reading Saving Francesca by Melina Marchetta, and Tomorrow When the War Began by John Marsden. An Australian literature great, you can find John Marsden on Story Box Library, reading his own book Home and Away, and in a short film about his creative process writing for kids and teenagers.
Being introduced to her local library, and the possibilities in reading, enabled Karys to foster a natural curiosity and creativity from a young age. This led to one of Karys' first ever jobs and work experiences as a young teenager, working at an academic library shelving thick art books, eventually leading her to pursue a career as a school librarian, after an early-career stint in London's bohemian art scene.
"I loved the art world but I never felt quite myself," Karys says. "I did some thinking about where I'd most like to spend my days, and the answer was undoubtedly in a library!"
Karys has not looked back since. Working at a library, and fuelling her love of reading while inspiring others to do the same, she is always amazed at the world of possibilities that libraries and books offer, and the important part they play in supporting their communities.
"I am continually buoyed by the generosity and determination of librarians who will do everything they can to get you the exact book or resource you need, no matter what it takes.
"I was looking for an obscure graphic novel the other day and my local library got it shipped down from Shepparton for me. Such good service!"
Especially for students for whom reading was not always a focal point in the home, Karys sees the opportunities for passionate librarians, and library spaces, to foster key connections. The act of reading, Karys explains, can provide three key benefits, to all readers young and old.
"I've always loved that reading can help you understand yourself better, allow you to walk in the shoes of someone else to develop empathy, or give you the chance to escape to another world completely," she said. "Sometimes all three at once!
"We are lucky that nowadays there are many opportunities for reluctant readers or those with low literacy or disability to have support and pathways into reading, too.
"There is a book out there for every child, and it is a privilege to guide that journey for the students I work with.
"We just need to make sure there is a qualified and passionate librarian in every school to make that happen across the board!"
When singing the praises of the important role of a library, Karys sees how committed librarians are to their patrons and community, the outpouring of generosity and going above and beyond in their roles as caretakers of wisdom, stories, and community helpers.
"Firstly, everything is free!" she says.
"There aren't many spaces these days where you aren't required to get out your purse for one thing or another, and I love that you can go to libraries and have the world at your fingertips, all for nothing," she explained.
"Libraries are safe havens that always strive to be inclusive, welcoming spaces. You can always feel at home in a library."
The CBCA Book Week is an annual event celebrating Australian literature and creators, and bringing world-class stories to life. Karys became CBCA Victoria Vice President in 2018 and now alongside her current role as President, she applied to be part of the judging panel.
"Being a judge for the awards has been a huge challenge but an incredible experience, the best professional development I think I've ever done!"
Of the network of like-minded people that Karys has found through Australian children's literature, she says, "These opportunities to develop a love of stories have turned me into the lifelong reader and librarian that I am today."
To enquire about a Story Box Library subscription for your public or academic library, contact us at libraries@storyboxlibrary.com.au. To enquire about a subscription for your school library, contact schools@storyboxlibrary.com.au.
The Children's Book Council of Australia is a not for profit organisation which aims to engage the community with literature for young Australians. CBCA Book Week 2021 runs during Term 3 of the Australian school year, from August 21-27. The 2021 theme is: Old Worlds, New Worlds, Other Worlds.