Filming #NSS2019
12 Mar 2019
There's something to be said for putting a children's TV and dancing star, a herd of alpacas and bunch of children's books in the same room. We headed up to Stanton Library in Sydney with Jimmy Rees, Matt Cosgrove and the spirited Co and Milo from Alpaca Kisses, to film this year's National Simultaneous Storytime story: Alpacas with Maracas.
The day's journey with a couple of helpful alpacas
We arrived at Stanton in style; driving a surprise Mercedes and with our camera man hauling every piece of gear he could carry over one shoulder.
Arriving well before we were due to start filming, we took an hour to decide where to take the best shots. Even when we've seen the location before a shoot, we need to make on-the-day decisions determined by lighting, passers-by and the last-minute inspirations or ideas that always come mind.
As soon as we found a few spots we were happy with, the folks from Alpaca Kisses arrived bringing the beautiful Co and Milo along with them. Making sure to keep our alpacas happy, we revisited our proposed shooting spots with the wranglershow could we fit Co and Milo into shot? Would they lie down? Would they cruise around the bookshelves while we took a few shots for the gram?
We don't usually work with animals on set (I think our last foray was with My Dog Bigsy. At times stressful, especially with passers-by desperate for a look at the action, it became a fun challenge for all of us.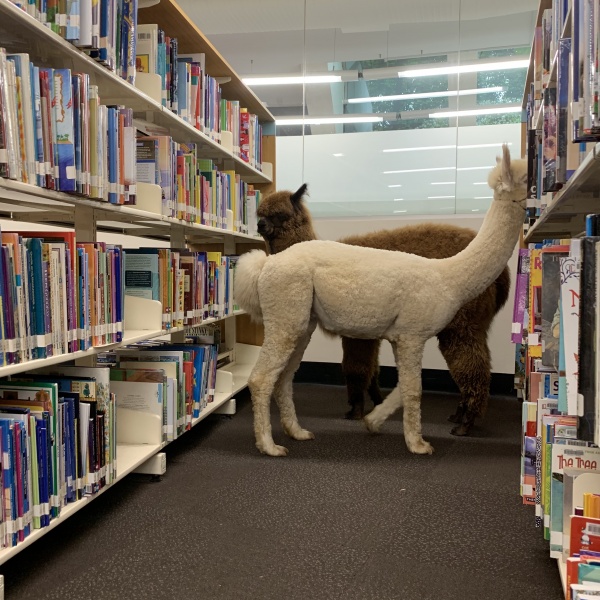 The brilliance of our storytellers
We know the importance of great storytellers, and part of our job is to make anyone in front of the camera feel at home. We work with people from all professions and backgrounds, from passionate educators and librarians like Yasmin Greenhalgh, to talented musicians like Nick Cave, to kids' TV icons now featuring on Dancing with the Stars (AHEM* Jimmy Rees). It's a bit of trial and error to figure out how we all work together, and when we dowell, it can be magic in a world of literature.
At our shoot in Stanton Library, we were lucky enough to work with three very gifted storytellersYasmin Greenhalgh, who read Barney (soon to be released), Matt Cosgrove, Jimmy Rees and a couple of equally talented alpacas.
We gained insight into the passion behind Yasmin's work. Hearing about her love for children's books and illustrations, and seeing the treasured sketch on her desk reminded us of why we do what we do at Story Box Libraryit's about sharing a genuine love for literature and finding innovative ways to engage the younger generation of readers.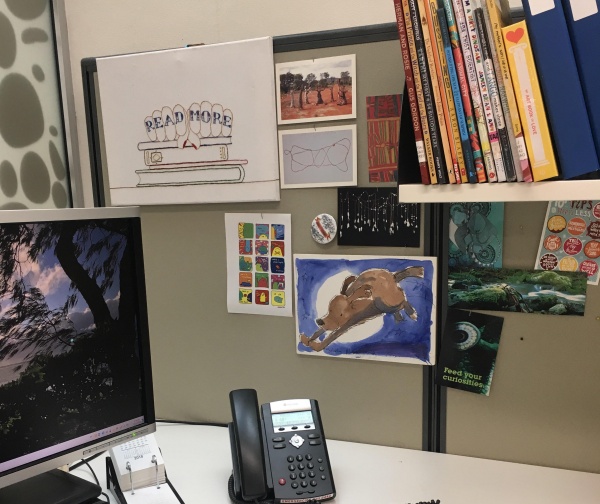 Filming with Matt and Jimmy as a combination was a lot of fun and a little bit of madness. Lucky enough to work with two consummate professionals, who can eat from a giant jar of pickles with an alpaca looming over the shoulder, we bounced ideas off each other to create an action-packed storytelling experience that you'll be treated to this National Simultaneous Storytime.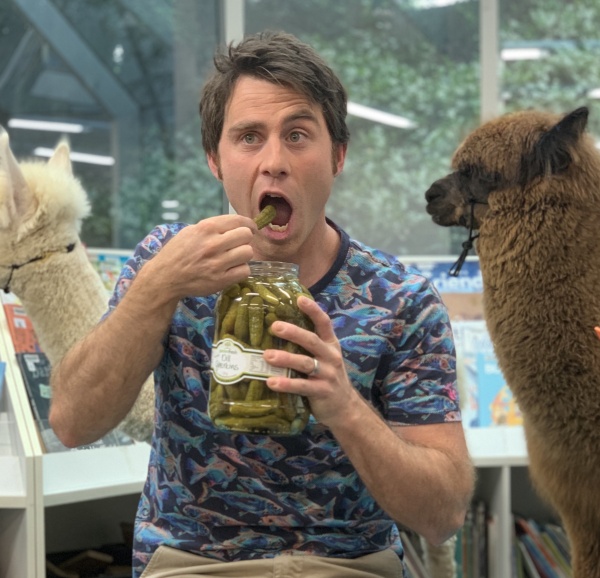 Matt and Jimmy were keen to share their knowledge wherever they could. We were even lucky enough to capture footage of the pair trying to figure out the difference between an alpaca and a llama...
Any shoot is a big day for the Story Box Library team—we're talking 17 hours with two delayed flights—but it's always well worth it.
This year's NSS will take place on Wednesday 22nd May at 11am, but you can register now to participate—it's free! Then on Monday 20th May, the Australian Library and Information Association (ALIA) will send you a bunch of downloads to support your event.
This year we're celebrating over one million kids reading and we encourage you to share your love for story by using #NSS2019 and #1millionkidsreading, or to send your stories, photos and videos to events@alia.org.au.