Stories keep languages and histories alive: why we've chosen to celebrate Jasmine Seymour's Baby Business in our library
Behind the Books
Children's Book Week
Educators
11 Aug 2020
We choose stories for our library that we believe will lead Australia into a stronger future, educating and inspiring the young readers who will lead us there in small and profound ways. Choosing books to include is a collaborative effort, and a result of relationships with passionate publishers and creators who work to connect communities through Story.
Our founder, Nicole Brownlee, met Jasmine Seymour, creator of recently-released Baby Business, at the CBCA Conference in 2019. She was 'struck by the power of the book and the significance the title could hold in classrooms across the country–and the rest of the world'. We spoke to Jasmine in the lead up to the release of Bianca Hunt's read, discussing the importance of incorporating Darug language words in the book, and the potential for educators to lead change and work towards reconciliation through Story.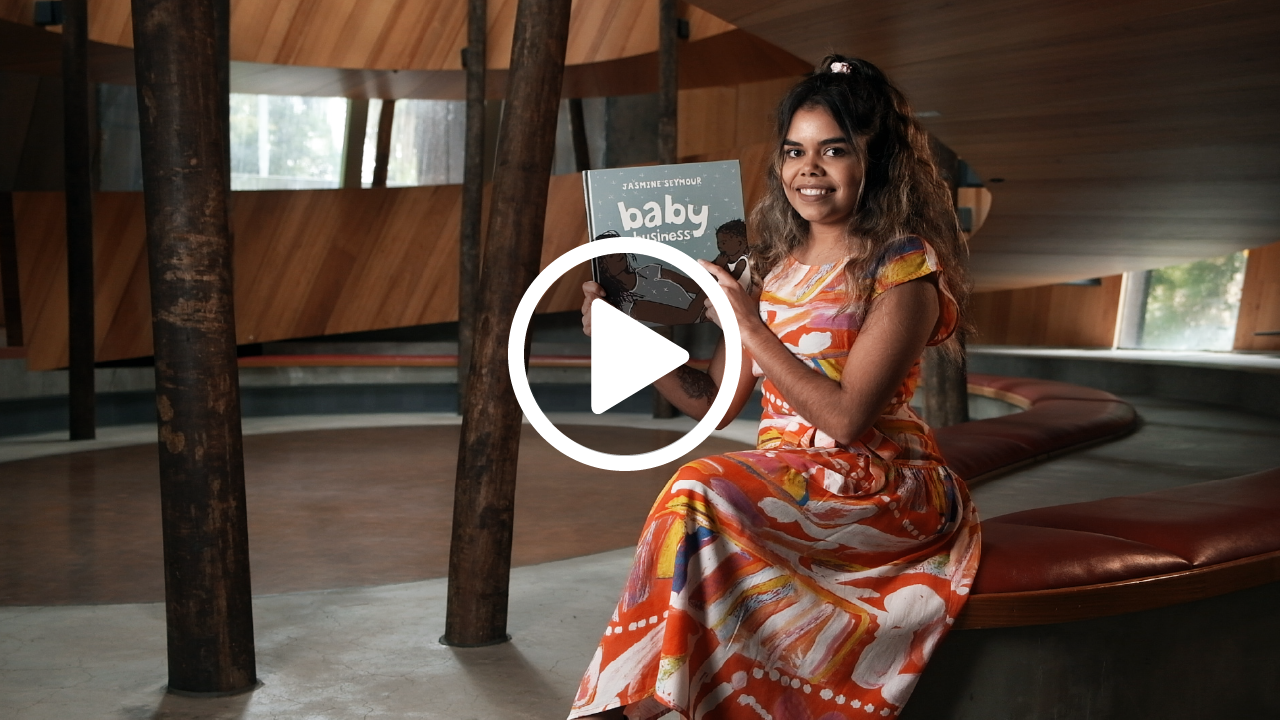 Published by Magabala Books, Baby Business tells the story of a Darug baby smoking ceremony that welcomes baby to Country. With Darug language words integrated throughout the book and a central message of connection to Country, Baby Business stresses the need to care for our land. 'It is a book about belonging,' Jasmine shares, and 'belonging to a place means you also have a responsibility to care for it.'
One of the most striking aspects of Baby Business to Nicole at that CBCA conference was the coexistence of Darug language words and English.
'We've seen a progression to the inclusion of First Nations' language in books for middle or young adult readers,' Nicole recognises, 'with titles including Ambelin Kwaymullina and Ezekiel Kwaymullina's Catching Teller Crow and Lisa Fuller's Ghost Bird … the harmony between language in picture books offers a hope for reconciliation in the future as kids from a young age can begin to understand the significance of the diverse First Nations languages and histories.'
Our Education Project Specialist (Educator, BA, BTeach (Sec), BEd (Prim)), Jackie Small, has previously discussed a 'feeling of trepidation' amongst non-Indigenous educators, who feel unqualified to share the beliefs, cultures and experiences of First Nations people in the classroom.
It's something that Jasmine, as a teacher herself, has heard from many teachers, alongside a historical fear about teaching the truth about dispossession in the classroom. She reiterates the advice that guided our First Nations' Stories series that consultancy is key, and that 'we need to tell the truth about our history'.
'That means,' Jasmine shares, '... teaching students how to show compassion and understanding', with a reminder that 'children are resilient and once they know or have been taught age appropriate content they are very good at accepting it and learning from it.'
'Please do not generalise one type of way as being applicable to all,' Jasmine stresses, 'Aboriginal people are diverse and have many different languages, experiences, ways of art making and storytelling … If you are teaching something about Dharug Country, look at the art from that area, its history of colonisation, its notable people, its language, and its stories. Very quickly you will discover that there is much to learn and explore.'
And it is key to learn and explore—even if it comes with feelings of trepidation and fear. Following the release of our
First Nations' Stories series, Jackie noted that while the fear comes from a good place out of respect for our First Nations peoples, 'not teaching this area due to fear would be a disservice to our First Nations' communities and to all Australian children'.
It's always a focus for Jackie when writing Classroom Ideas for our
First Nations' Stories series, as she helps teachers and students explore the language group of the character, author or illustrator and then use the story as a springboard to learn about the language group in their own area. 'I think this is vitally important,' she says, 'otherwise the generalisations continue, without recognising the diversity of individual groups and communities'
To reach a place of reconciliation, we must all do the work and advocate for the teaching of diverse lived experiences.
In our discussions with Jasmine, she shared that despite those feelings of trepidation 'it is always better to do something than to do nothing'.
Learning about the places we live and caring for them is something we can all do together, and it's something we can do in the classroom through the books discussed and the stories we choose to share.
More resources are becoming available for educators to appropriately share histories of Aboriginal and Torres Strait Islander peoples, including stories such Baby Business, as well as story databases created through consultancy by organisations like the National Centre for Australian Children's Literature. What we have now is an opportunity to right the wrongs we have seen in Australian education. Our founder Nicole recognises the importance of being involved in this work, and maintains a strong focus on progressive partnerships and initiatives in 'a move towards a stronger future with reconciliation at its core'.
'Consider,' Jasmine says, 'that if things had been done differently, Australia would have been a multilingual society. We would have all grown up learning the language of the Country upon which we live … While Australian languages are very different, they all share similarities. Learning about them will help us all. That is reconciliation.'
Imagine what our future could be if we work together for the comprehensive teaching and learning of Australian languages and histories in the classroom.
Share Bianca Hunt's reading of Baby Business with your classroom, family or community, and discover a range of books, including many available on Story Box Library, sharing the histories and languages of Aboriginal and Torres Strait Islander peoples on the NCACL database.