Refugee Week stories for inclusion and understanding
Educators
Libraries
Parents
20 May 2022
What might life be like as a refugee or asylum seeker coming to Australia?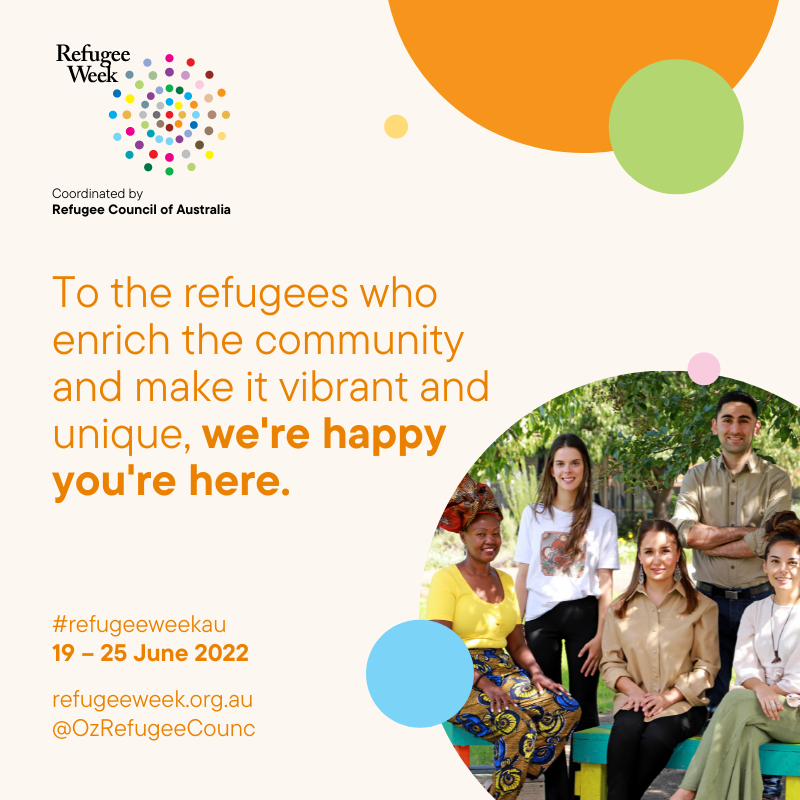 Stories help us shape and understand the world around us, especially the viewpoints of diverse and adverse experiences. For young children, gaining compassion for loss of home, migration and conflict can be achieved through storytelling. Parents, carers, educators and library staff working directly with community members are encouraged to use picture books with young kids to increase awareness, understanding and empathy.
Refugee Week (19-25 June) is a national event, raising awareness of the issues affecting refugees. The 2022 theme is 'Healing', and aims to highlight aspects of the refugee experience and help the broader community understand what it is like to be a refugee.
Explore selected titles below, created and read by a diverse range of storytellers, many of whom share personal experiences of difference and belonging, and adversity and hope. Educators and carers are advised to check age suitability with students before watching the story with children.
With a strong message of interconnectedness, hope and empowerment, This Small Blue Dot follows a little girl exploring the big and small things in life. From contemplating our place on this 'blue dot' to the best Italian, Chinese and Indian desserts, the story provides a broader, more inclusive view of who we are, where we come from and where our dreams may take us.
Find the Activity Time video for This Small Blue Dot here.
An important story of immigration and belonging to share with Australian children tenderly told by Irena Kobald and intricately illustrated by Freya Blackwood.
Following her arrival in a new country with its unfamiliar sights and sounds, Cartwheel creates a safe place for herself under an 'old' blanket made out of the memories and thoughts of home. As time goes on, she begins to weave a 'new' blanket of friendship and belonging that is different from the old blanket, but it is eventually just as warm and familiar.
My Two Blankets is also available in Dari (read by Zakia Hassan), Farsi (read by Ensie Anjedani) and Arabic (read by Mohammed Sharabah).

This book may not be suitable for children of all ages.
A haunting and beautiful tale of the power of words, the importance of stories and the resilience of the human spirit. As war rages, Peter and his father flee their home, taking with them a treasure box that holds something more precious than jewels. Our reader Kitia Altman was as a Holocaust Survivor from WWII, who came to Australia as a refugee just after the war ended.
I'm called an asylum seeker, but that's not my name. A little girl and her mother have fled their homeland, making the long and treacherous journey by boat to seek asylum. Timely, powerful and moving, Out celebrates the triumph of the human spirit in the darkest times, and the many paths people take to build a new life.
As much about personal themes of growing up, friendships, coping with being different and loneliness, Suri's Wall also encompasses more universal themes of displacement by war and the power of the human spirit.
Feathers is a stunning story that on the surface follows a sandpipers yearly migratory flight, yet contains a deeper and thought-provoking observation of the hardship faced by people in different lands around the globe, due to the destruction caused by earthquakes, civil unrest and flooding. Beautifully told by actor, writer, spoken word artist, and stand up comedian Osamah Sami.
This clever picture book has one story that can be read two different ways. When read from front to back, the seals believe there is definitely no room on their rock for others. But when the book is read from back to front, the seals welcome others to shelter on their rock. A heartwarming story about sharing and compassion.
Told by Enya and her grandmother Van, Grandma's Treasured Shoes is a story for young children about a grandmother's journey as a little girl from Vietnam to Australia, told through engaging illustrations and a gentle, rhythmic story. From author Coral Vass and illustrator Christina Huynh.
This book may not be suitable for children of all ages.
Everyone wants a place of safety, a place to share with the people you love. A place to relax. A home. There are only two places you can be in life: home or away. Right now, more than a billion people don't have a home -- that's one in seven of the worlds' population. This could happen to you. What would happen if a typical Australian family found themselves refugees?
Discover more titles via our 'Stories for Refugee Week' playlist, found on your Story Box Library account dashboard.