Our #Shelfies for Australian Reading Hour!
Parents
Inspiration
Storytelling
25 Jul 2019
Australian Reading Hour is asking participants to share their #Shelfie as part of their ongoing commitment to get kids and adults excited about reading. We're really excited to be working with Reading Hour this year (stay tuned for more info there!) and love their latest initiative.
As a team of book-lovers, we decided it was time to share our #Shelfies and what we're reading with YOU. Looking for a new book? Read on.
Our Educational Consultant loves uplit fiction & family reading time
Jackie said that her #Shelfie celebrates old and new favourites.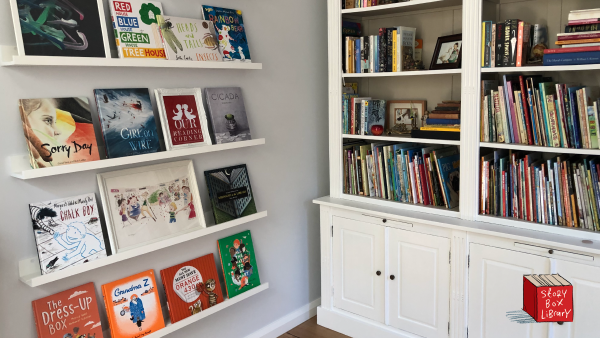 I've just finished reading The Book Ninja; uplit fiction is my genre of choice for personal bedtime reading! But reading together is still a really important part of our family fabric. We all love Lights Out, Leonard by Josh Pyke and Chris Nixon (and we're guaranteed clean teeth, tidy rooms and goodnight kisses); it's currently sitting among some CBCA shortlisted titles on our forward-facing shelves.
On my reading pile are: Lenny's Book of Everything by Karen Foxlee, Sick Bay by Nova Weetman, The Other Half of August Hope by Joanna Glen and As Happy as Here by Jane Godwin!'
Our General Manager, Del, has a firm favourite in Melina Marchetta
Del is currently reading Melina Marchetta's The Place on Dalhousie.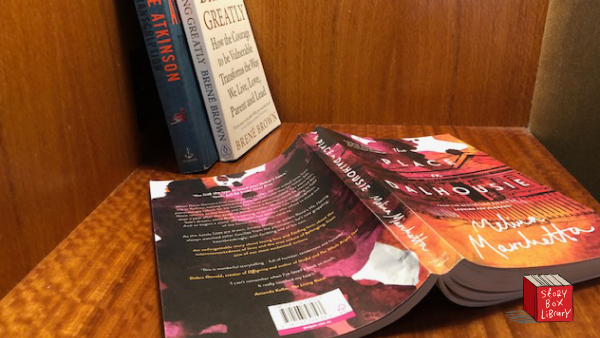 I worked at Penguin Books when we released the tie-in edition of Looking for Alibrandi and Melina has always been a firm favourite of mine. Her characters are always so real, and I'm thoroughly enjoying this latest book.
I actually don't know what I'll be reading next... I like to visit my local library and just browse the shelves to see what takes my fancy.... although I have put in a reservation to our SBL team library for a book a couple of colleagues have read or are reading and raving about, Michel Faber's The Book of Strange New Things. I loved his book Under The Skin, so I'm hoping this new one won't disappoint.'
Our Digital Communications Coordinator, Savannah, can never choose just one book
Savannah always has a few books on the go...
I'm currently making my way through People Who Eat Darkness by Richard Lloyd Parry, whose latest book, Ghosts of the Tsunami, is a real stand-out for me. I'm also reading My Year of Rest and Relaxation by Otessa Moshfegh, which is laced with dark humour and characters as unlikeable as those in Sally Rooney's novels!
I recently finished The Book of Strange New Things by Michel Faber and loved his evocative style. The story was bleak at points, but I couldn't tear myself away from the world Faber created. I think I'll be looking for another one of his books for my next readmaybe Under the Skin?'
Our Digital Producer, Bron, devours fantasy novels
Bron Konmari'd her physical book collection, but keeps her Kindle full!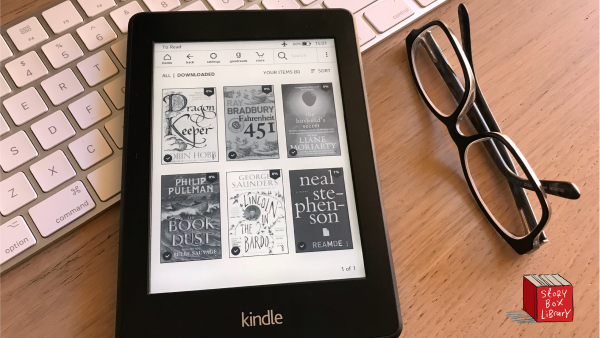 I'm currently listening to Audible's recording of Beartown by Fredrik Backman and narrated by John Sackville, and I just finished reading Michel Faber's The Book of Strange New Things, which completely blew me away. It was so unique and vivid; I couldn't stop thinking about it in between reads and it's really stayed with me.
That's going to be a tough act to follow so I haven't quite decided what to read next, but it might be time to return to Robin Hobb's Realm of the Elderlings and start off the Rain Wild Chronicles with Dragon Keeper, or delve into a hefty Neal Stephenson tome for another speculative fiction fix.'
Our Producer, Shona, is reading...
Shona is always reading STACKS of picture books for upcoming shoots, but manages to squeeze a few extra reads in when she can.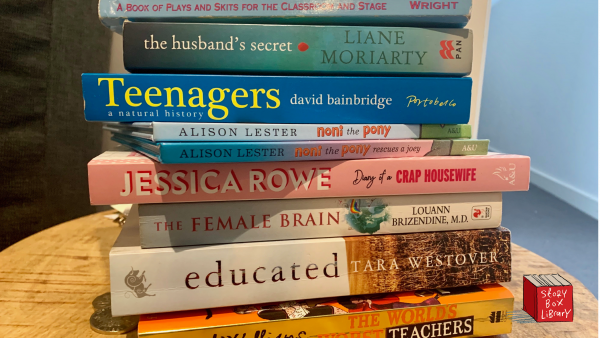 I am currently reading David Walliams' The World's Worst Teachers with my eight-year-old daughter, which she finds funny! I'm also a teacher and I am teaching drama to 13 to 15-year-old boys, so searching for a fun playhence A Book of Plays and Skits for the Classroom and Stage and Teenagers.
I'm also reading Noni the Pony and Noni the Pony Rescues a Joey for Story Box Library and I'm looking forward to heading to Bali this week, where I plan to read Educated and The Husband's Secret.'
Our Libraries Liaison, Amy, is reading...
Amy couldn't bring all of her books with her when she moved to Australia from the US... But, she still tries to keep some children's classics and old faves of her kids on the shelves at all times, as well as her go-to cookbooks and her favourite books from childhood!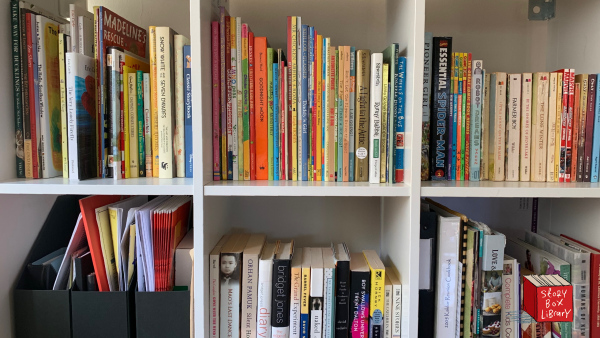 When I worked for Disney, I edited comics for Disney Adventures Magazine, so I keep my DA comics anthologies out, plus some other comics/graphic novels that my Comics Director and mentor at the time thought that all comics editors should have in their possession.
Robot Dreams is one of my favourite graphic novels of all time. It both breaks your heart and makes your heart swell all at the same time. And then, a cube of books that I've loved throughout various decades of my adulthood... JD Salinger from my late teens, Bridget Jones and About a Boy from my 20s, David Sedaris from my 30s (though I still love him to this day), and I still need to obtain my own copies of A Gentleman in Moscow and All the Light We Cannot See to begin adding for my 40s. Plus, I need my own copy of The Book Thief, which is probably one of my all-time favourites. Ever.'
What stories are YOU reading? Share the #Shelfie love by using #TakeTheTime, and tagging @ausreadinghour and @storyboxlibrary on social!