Megan Daley on the Importance of Anzac Day
23 Apr 2019
We have huge respect for author of Raising Readers, and reached out to Megan Daley for some words on the significance of Anzac Day and the importance of reading aloud.
25th April is Anzac Day, a day to honour Australian and New Zealanders who have served their countries with such bravery. Story Box Library has a beautiful collection of Anzac Day stories, including one that I read each year to my own children, Anzac Biscuits, and we always follow a reading of this book with a cooking session to whip up some Anzac biscuits. Books which recount the stories of men, women and animals at war, as well as those who were left at home - waiting, working, praying, hoping and sending care packages are one of the most effective ways to ensure our children understand the importance and significance of Anzac day.
Each of the Story Box Library Anzac-themed stories are exquisite read-alouds. I love reading aloud to my own children and to my students at school, but Story Box Library offers students a variety of voices and storytelling techniques.
I remember watching the Anzac-themed I Was Only Nineteen with upper primary classes last year on Story Box Library and ending up with tears in my eyes during each lesson - I was exhausted by the end of the day! The warmth with which John Schumann reads this powerful book is heartfelt and he introduces it standing in front of Melbourne's Shrine of Remembrance; not something I can recreate for each of my classes, but Story Box Library can.
Likewise, I will never be able to read a book like One Minute's Silence as emotively as actor Shane Jacobson's of this iconic book by David Metzenthen & Michael Camilleri. In the words of Shane Jacobson, "this book helps us to remember what we should never forget… those that gave up their Tomorrows so that we could have a Today"
The reading by Tiffany Speight of Anzac Biscuits again gives students a context for the story, which I cannot provide in a school library. Tiffany is seated in a country kitchen (I swoon) and the filming switches between the book and the kitchen, where Anzacs are being made. The visuals invite young viewers into the setting of the story from the comfort of their library and bedroom and adds a whole other dimension to the book.
You can watch a selection of picture books available as read-alouds on the Story Box Library website, which are perfect for reading in the lead up to Anzac Day, including their new release Anzac Biscuits, read by Tiffany Speight. Some stories will send shivers down your spine and some will bring tears to your eyes.
I have also reproduced my favourite recipe for Anzac biscuits. You can find a recipe for Anzacs anywhere, but I like mine as it is from my 1980 Kindergarten cookbook and the pages are food stained and well worn.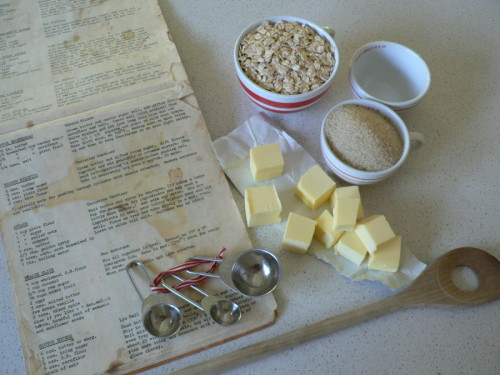 Anzac Biscuits
1 cup plain flour
1 cup sugar (brown or raw)
1 cup rolled oats
1 cup coconut
125g butter
3 tablespoons golden syrup
½ teaspoon bi-carb soda in 1 tablespoon boiling water
Melt butter and syrup in saucepan. Add soda/water and watch the volcano effect! Mix dry ingredients in a bowl. Pour butter/soda mixture over and mix well. Place spoonfuls on a tray and cook at 160c until golden. Leave to cool on tray.
Want to reach out to Megan? You can connect on Facebook, Instagram, Twitter, Pinterest, or you can contact her on the Children's Book Daily website.