Love Your Library: 15 Ideas to Help You Celebrate Libraries
28 Jan 2021
Written by Jackie Small, Education Project Specialist.
With Library Lovers' Day just around the corner on February 14, we're in the mood for libraries. Often due to funding cuts and organisational restructuring across schools and local libraries over the years, and with the more recent closures of libraries due to covid-19 lockdowns, visits to libraries are becoming few and far between.
As a result, many Australian children don't have the opportunity to discover what magical, wondrous and powerful places libraries can be. According to Ursula Dubosarsky, the current Australian Children's Laureate 2020-2021, libraries can be a place to experiment, for children to develop their own agency over reading and understand the enchantment of reading.
We don't want to limit our love of local and school libraries to just one day in the year. That's why we're using the month of February to support Ursula in her mission to improve access to libraries by sharing 15 ways to access stories and activities that help teachers, librarians and parents visit, explore and celebrate libraries with children.
Download your free library activity printables here.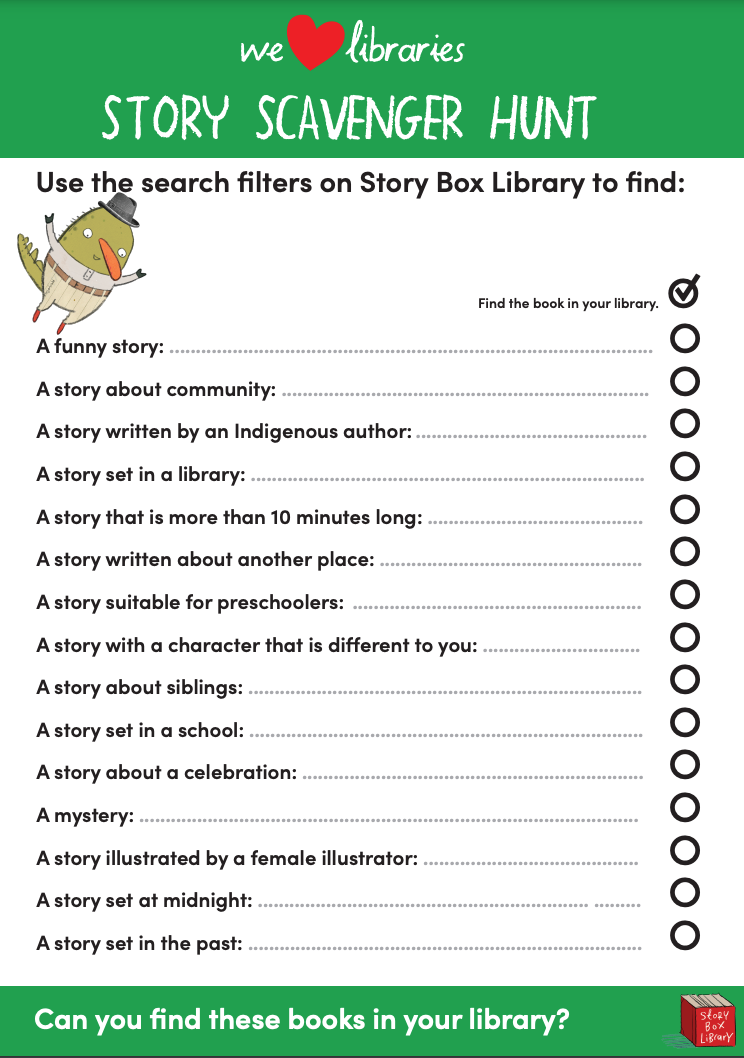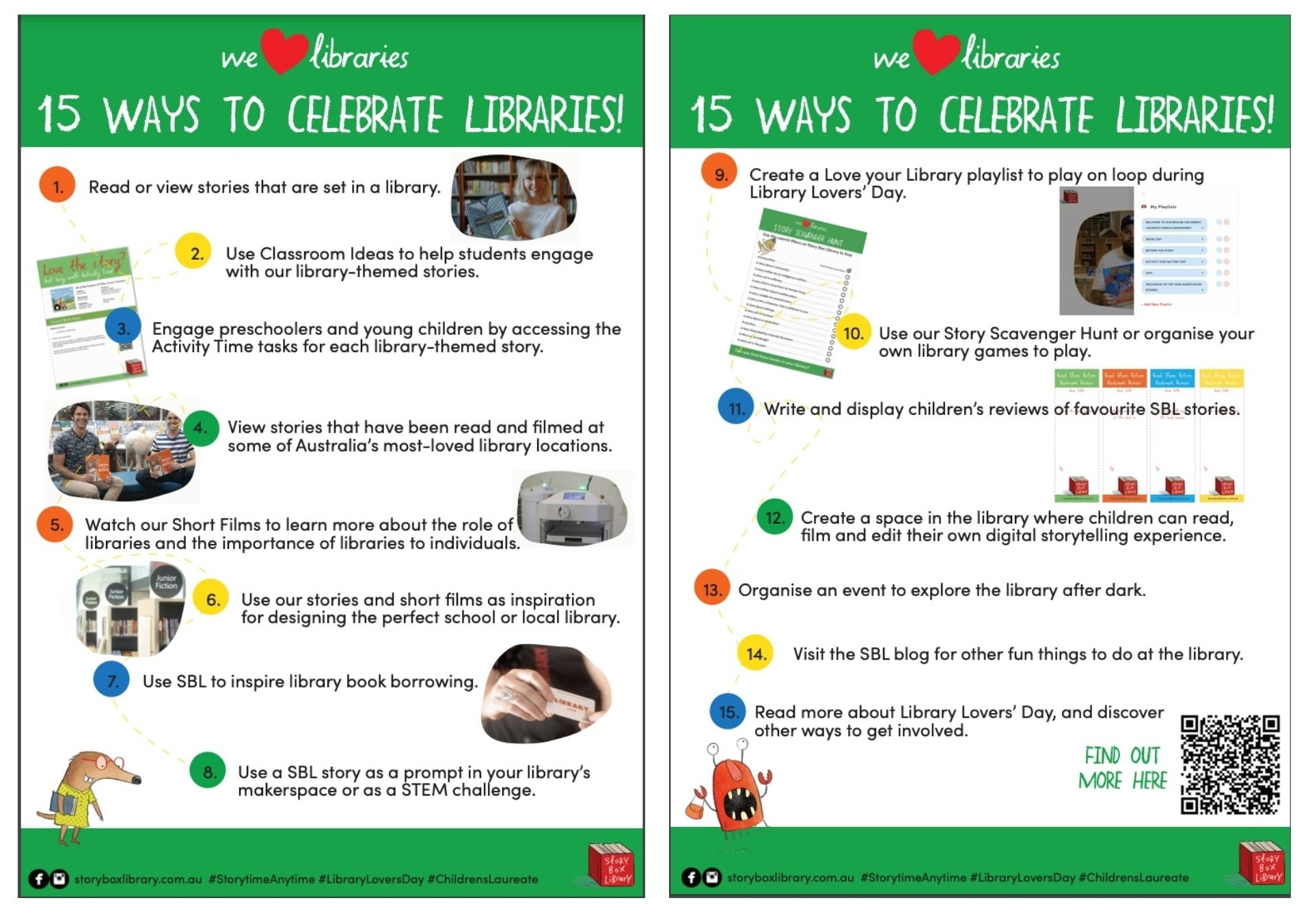 1. Read stories with a library setting, including:
2. Use the Classroom Ideas that have been created for our library-themed stories.
Created with educators in mind, our Classroom Ideas can be accessed via the Activities tab on each Story page, and provide a range of activities and text response tasks that will encourage children to learn about the history, functions and benefits of libraries and reading, including:
3. Access the Activity Time tasks that have been created for our library-themed stories.
Activity Time tasks are best suited to home or public library environments and can be accessed via the Activities tab on each Story page. They provide a variety of experiences to help children connect to the characters and themes of a story, including the following tasks well-suited to a library visit:
4. Identify the features of libraries by viewing our stories that have been read and filmed at some of Australia's most-loved library locations, including:
National Library of Australia, ACT
State Library of Victoria, VIC
State Library of Queensland, QLD
Baroonga Nganjin - North Fitzroy Library, VIC
Maribyrnong Library Service, VIC
Waverley Library, NSW
Stanton Library, NSW
Burwood Library, NSW
Marrickville Library, NSW
St. Aidan's School Library, QLD
Trinity Grammar School Library, VIC
Xavier College- Burke Hall School Library, VIC
ACU Strathfield Campus Library and Indigenous Higher Education Unit (Yalbalinga), QLD
Parliament House Library, VIC
Melbourne Central Little Library, VIC
Books Illustrated Private Library, VIC
5. Watch our Short Films to learn more about the role of libraries, but also to hear about the importance of libraries to individuals:
6. After comparing the similarities and differences between libraries in our stories and short films, encourage students to brainstorm and design the perfect library for your school.
Ask them to organise a tour of your school or local library that showcases the history, features, services, benefits and events.
7. Inspire library book borrowing by:
Encouraging children to choose their favourite Story Box Library (SBL) story, then visit their school or local library to find another book by the same author or illustrator.

Encouraging students to create a wish list of favourite stories on SBL to borrow and re-read from the library when they next visit.
8. Create a maker space in your library at recess or lunch, and choose a SBL story as a STEM challenge prompt. Some suggestions are:
9. Take requests from children to help create a Love your Library playlist of stories in SBL, and play them on loop during Library Lovers' Day.
10. Organise games for students to play in the library, such as our SBL story Scavenger Hunt, or ask students to create their own library scavenger hunt for friends.
11. Using our bookmark review templates, ask children to write a review of their favourite story on SBL. Display the reviews in your library or resource centre for other students to see and be inspired by.
12. Create a space in the library where children can read, film and edit their own digital storytelling experience, using SBL as a model.
13. Explore the library after dark by organising a sleepover or pyjama storytime event in your library, and screening a shortlist of favourite SBL stories.
14. Visit the blog for Seven Ways Librarians Have Fun at the Library, or 10 Fun Things to do at your Local Library, and ask children to create their own list.
15. Read more about Library Lovers' Day, and discover other ways to get involved.
With an abundance of information and campaigns supporting the importance of libraries for children and students of all ages, we're supporting a love of libraries beyond February.
Read more about the libraries innovating and transforming here, and to find out more about research by Students Need School Libraries, which focuses on the importance of libraries in supporting literacy, learning and wellbeing.