Connecting young readers at Brimbank Libraries
Libraries
Children's Book Week
19 Jul 2022

Libraries are important spaces for everyone to come together. They offer a welcoming space for creative minds to explore and engage with stories on a greater level by providing accessible learning tools for all. With Children's Book Council of Australia (CBCA)'s Book Week 2022 quickly approaching in August, the CBCA Shadow Judging program has become an exciting opportunity to connect young readers with shortlisted books, where their voices can be heard in a safe space.
The CBCA Shadow Judging program has become a welcomed addition in the lead up to Book Week, collaborating with teacher librarians and public libraries across Australia for young voices to join the conversation about the annual shortlist CBCA Book of the Year Awards.
The Sun Project Shadow Judging is where a group of young readers and their mentors dive deeply into the shortlisted books, explore the literary values of each award criteria, and express their opinions and responses as 'shadowing' judges to the official CBCA Book of the Year judging panel. The results will be announced at the end of CBCA Book Week, at the Shadowers' Choice Awards (26 August).
Story Box Library recently spoke with Rosie Cirrito at Brimbank Libraries in St Albans, Victoria, who participated in the 2021 Shadow Judging program.
"The children, library staff, and student volunteers at our afterschool Reading Buddies Program all joined in with the Shadow Judging.

"The group discussed what makes a good story and the judging criteria used in awarding the best books of the year," Rosie said.

"The Shadow Judges were delighted to have their voices heard and for their judging results to go straight to the CBCA. All who took part really enjoyed it and were excited to be involved!"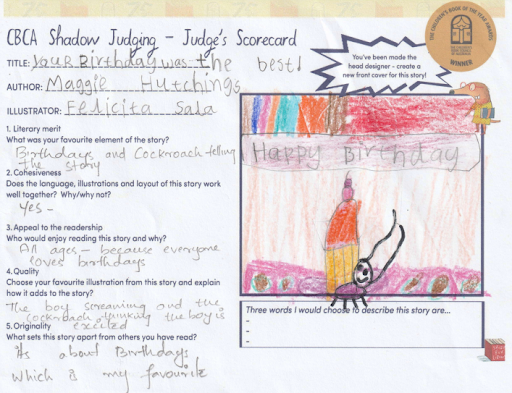 Rosie's role at St Albans Library helps members of the Brimbank community access stories, learning and information, and she shared her experiences and the benefits of hosting the program at her local library.
"Reading a number of different stories together and discussing as a group provided some great opportunities for the children to delve deeper into the stories, provoking thoughtful responses," she said.
Story Box Library also spoke to Rosie about why inclusive programs like Shadow Judging are important learning opportunities for children to connect with stories and engage with themes on a deeper level.
"Being able to zoom right in and appreciate the detail in illustrations helped capture everyone's imagination.

"The children laughed out loud at animal antics, connected with stories of friendship and loved the subtle meanings behind some of the stories too," she explained.
The libraries at the City of Brimbank have been using Story Box Library's helpful and trusted digital resources, including shortlisted stories read by engaging storytellers, book response activities, and promotional assets to complement their library services, catering to the needs of all library members and connecting young people to great literature. These resources have been designed to enhance inclusiveness and engagement for CBCA Book Week library events and celebrations.
"Digital resources offer enhanced accessibility and interactivity to complement programs at the Library,'' Rosie said.
"Online resources are a fundamental part of the library offering, providing access to collections, readers' advisory as well as varied opportunities for enhanced interaction and engagement as well as removing physical barriers."
Libraries play a unique role in Australian children's literature, connecting peers, books and creatives, to encourage children's understanding, empathy and kindness through stories. Online platforms such as Story Box Library allow families to access the stories and learning resources, from the comfort of their homes or at the library.
"During lockdowns, children were able to view the CBCA's shortlisted titles on Story Box Library and have continued connection to books and stories," she said.
"Having talented storytellers bring the books to life, along with added production sparkle, is a valuable way to engage with children and families during Book Week and beyond."
Accessible on a range of devices, Story Box Library has developed CBCA Book Week 2022 resources for educators and library staff, designed for all stages of primary education. These resources, like the Shadow Judging Program, foster creative and engaging opportunities to explore, analyse and connect with the themes, characters, language and literary features of the stories.
For librarians and libraries interested in how they can engage their community with Story Box Library's resources for CBCA Book Week and beyond, contact us at libraries@storyboxlibrary.com.au.
Find more information on our CBCA Book Week 2022 resources here.