Celebrating Indigenous Literacy Day & Global Literacy Day
Educators
Libraries
Parents
26 Aug 2021

Providing kids with diverse and accessible literature and stories from a young age is key to their development, and helps improve their literacy skills, and even understanding of the world. During this month, Indigenous Literacy Day is celebrated on 1 September, and Global Literacy Day on 8 September. Story Box Library is sharing educational stories and resources, for educator, parent and librarian use, focusing on Indigenous and First Nations stories, along with the importance of literacy promotion during Global Literacy Day and beyond.
The Indigenous Literacy Foundation celebrates Indigenous Literacy Day on 1 September. This year for Indigenous Literacy Day, the Indigenous Literacy Foundation are hosting a free virtual celebration for all Australians, going live 9am Wednesday 1 September. In addition, The Indigenous Literacy Foundation are encouraging schools and workplaces to hold a 'Great Book Swap'. ILD provides a window into the richness, diversity and multilingual world of First Nations peoples, through storytelling. Learn more about Indigenous Literacy Day and the 'Great Book Swap' via their website.
In My Blood It Runs
A documentary shot in Mparntwe (Alice Springs), Sandy Bore Homeland and Borroloola Community, Northern Territory, Australia over three and a half years, In My Blood It Runs follows ten-year-old Dujuan, a child-healer and good hunter who speaks three languages. He shares his wisdom of history and the complex world around him we see his spark and intelligence. Yet Dujuan is 'failing' in school and facing increasing scrutiny from welfare and the police. As he travels perilously close to incarceration, his family fight to give him a strong Arrernte education alongside his western education lest he becomes another statistic. We walk with him as he grapples with these pressures, shares his truths and somewhere in-between finds space to dream, imagine and hope for his future self.
Watch In My Blood It Runs here.
Indigenous Story Time series
Use our Indigenous Story Time series to engage all children in First Nations' stories, featuring respected and well-known First Nations people, reading stories about their histories, cultures, connections to the land, and more.
During the month of September, Our Home, Our Heartbeat is available to watch free for Australian and New Zealand audiences. Written and read by rapper Adam Briggs, it celebrates past and present famous Indigenous legends, inspiring young children to follow their dreams.

Written by Bruce Pascoe, published by Magabala Books, and read by Emma Donovan for Melbourne Writers Festival. This gentle story set in the rugged Australian bush is about a small calf who becomes separated from his family, who have been taken away in the back of a noisy truck. So begins the little calf's journey to find his family again.
Found is also available to watch in Auslan.

Respected Elder Aunty Joy Murphy welcomes us to Country with a Wurundjeri Wominjeka (welcome) and beautifully, yet simply, explains the concept of welcoming ceremonies and their significance to Aboriginal communities across Australia.
A story inspired by author Ezekiel Kwaymullina's grandmothers, who passed on their love of country to him. Read by singer Isaiah Fibrace, My Country is a jubilant journey through a child's home country, celebrating the joys of nature and emphasizing the connection between Indigenous Australians and their land.

Benny Bungarra's Big Bush Clean Up
An environmental tale from Sally Morgan that shows how animals are affected by rubbish left in their habitat by humans. Ambelin Kwaymullina's illustrations are an explosion of colour and cleverly show the perils faced by our native animals. Read by actor Miah Madden, this timely story is a great reminder to everyone that we must work together to look after our environment!

*This book is not suitable for younger children. Educators and parents encouraged to watch story read first to determine if age-appropriate.*
The epic and tragic story of Jandamarra. Set in the Kimberley region in north-west Australia, this is the story of a young warrior born to lead. To the settlers, he was an outlaw to be hunted. To the Bunuba, he was a courageous defender of his country. Read by actor Trevor Jamieson, Mark Greenwood's text and Terry Denton's watercolour illustrations bring to life this story of conflict and divided loyalties.

The Lost Girl depicts the unique and unbreakable bond between Indigenous Australians and the natural environment as Mother Nature helps a lost girl stay safe and secure and find her way back to her family. From author Ambelin Kwaymullina, and richly detailed illustrations depicting the natural environment by Leanne Tobin, this beautiful story is told by Lille Madden.
Watch our short film, Stories Connect Us All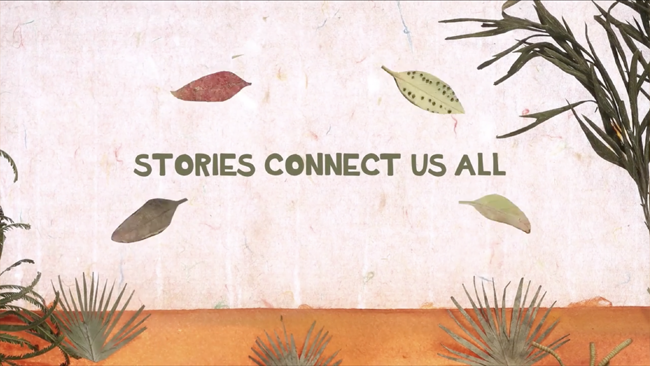 Global Literacy Day - 8 September
The 2021 United Nations International Literacy Day occurs on Wednesday 8 September with the theme, "Literacy for a human-centred recovery: Narrowing the digital divide". All children should have access to high-quality literature, regardless of age, learning skills and socio-economic background. As the pandemic has created barriers to young students going to school, digital innovations and options have instead allowed for greater access to education resources, literacy and stories.
Story Box Library helps overcome barriers to access via our digital platform and helps support kids everywhere to explore a world of stories. With new releases translated into Auslan, and a growing digital library of almost 400 stories, Story Box Library is helping narrow the learning gap for all children. Explore our digital library here, or watch stories for free during the month of September, via the links below.
Watch our free story for Australian and New Zealand audiences this September, Our Home, Our Heartbeat.
Watch our free story for international audiences this September, The Children Who Loved Books.
Sign-up for a free 30-day trial of Story Box Library for your school.