Celebrating difference: supporting kids to see in new ways
Behind the Books
Educators
Parents
07 Oct 2020
For World Sight Day 2020, we're taking the time to raise public awareness of blindness, and the impact vision impairment and wearing glasses can have on children at home or in the classroom. One of our recent releases (and free preview story until October 9 2020) The Boy in the Big Blue Glasses is a story to generate such awareness, with a focus on self-acceptance, empowerment and inclusivity.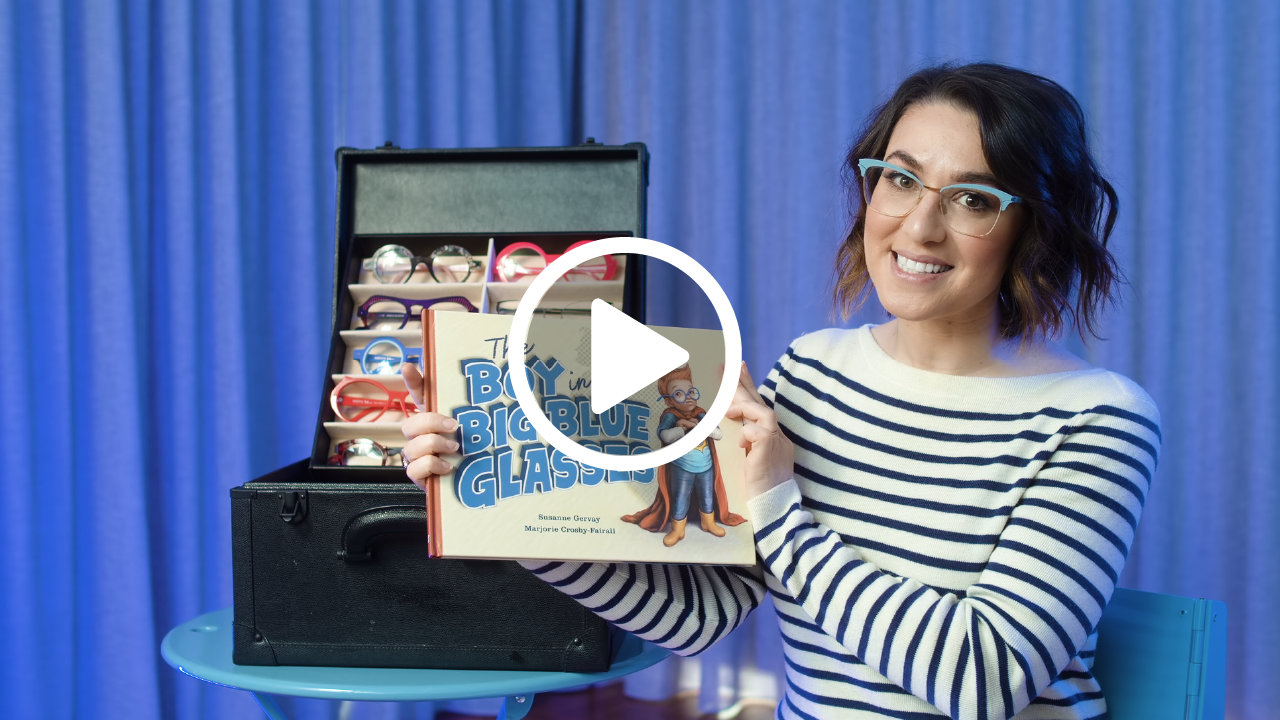 The Boy in the Big Blue Glasses, created by Susanne Gervay and Marjorie Crosby Fairall, is a story of a boy, Sammy, learning to be himself. Read by Alice Zaslavsky, with a magnificent array of glasses to match every personality, this story will have young readers racing to find frames in their unique style.
With corresponding Activity Time instructions to encourage kids to think about the importance of sight and why it's important for children like Sammy to wear glasses, we're hopeful that the story will start conversations about glasses and vision—at home and in the classroom.
In an interview with Booktopia, author Susanne Gervay says that kids 'need to feel good about wearing glasses and other children need to accept the difference'. At a time where children are 'developing their sense of self … Glasses or any difference needs to empower a child, as it's part of who they are.'
Francesca Sferlazza knows the importance of stories like The Boy in the Big Blue Glasses in providing 'a platform for children with low vision to express how they feel and … to encourage social acceptance and inclusivity.'
The mother of Raphael (Raphie), who was diagnosed with Albinism, Fran has been receiving support from Vision Australia and has long recognised the importance of stories in her son's development. She attributes part of Raph's extended vocabulary and love of reading to the fact that he's been read to since birth, utilising the Feelix Children's Library and a particular interest in sensory books, and is conscious of the need to keep his engagement with stories strong.
Working with Vision Australia Educational Specialist Emma, Fran has been able to facilitate professional development for Raph's daycare to help them learn about Albinism and how to set up the kinder room to assist children with low vision. And as Raph grows up, both Emma and Fran are interested in using assisted technology and continuing a love for digital engagement with stories to foster Raph's education and language development.
'We have always encouraged Raph to watch and listen to stories and animations on his iPad,' Fran says, 'It's developed his language, his knowledge of the world around him, his connection to stories and gives him a comfortable way to view things as he can hold it close and see things in detail and to scale.'
Imperative to this continued engagement with learning is acceptance and inclusivity in the classroom.
'Children's attitudes towards inclusivity come from home and communities,' Fran says. And books like The Boy in the Big Blue Glasses, particularly those read aloud by storytellers who have found empowerment in their differences, can generate conversations around how to include those different from ourselves and why it matters.

Those interested in learning more can watch The Boy in the Big Blue Glasses read by Alice Zaslavsky, learn more about Vision Australia or get involved with World Sight Day.